Your browser is out of date and will not be compatible with our website.
Please download one of the following browsers to be able to easily view our website.
Autumn shoe trends to check out
Autumn is here and colder months are just around the corner, which means we'll soon be wrapping up and getting ready for longer evenings, autumnal weather and a change of wardrobe. A change of season means it's time to pack away your summer clothes and dig out your favourite cosy jumpers and boots - but what shoes are trending this autumn?
Wondering how to dress for autumn? Here are some of the top footwear trends this season, with outfit inspiration to help you style autumn shoes for women and men.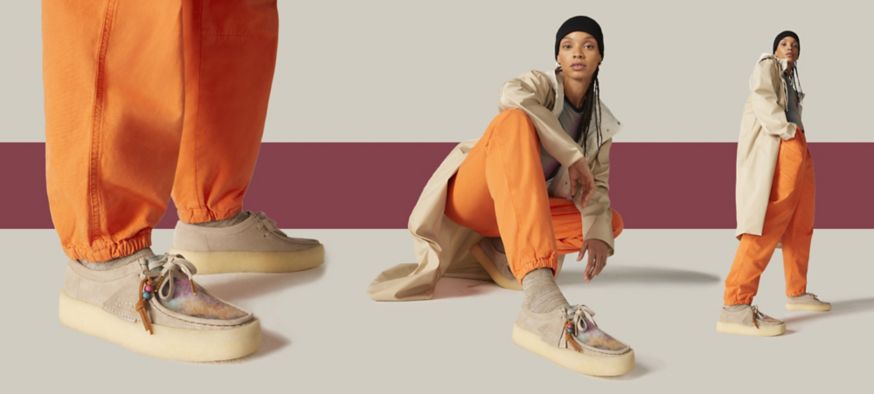 Autumn shoes for women: 6 trends to look out for:
Chain embellishments
Shine on in every outfit thanks to gleaming gold hardware. This season, timeless court shoes are shaken up with contemporary embellished details - like our Violet 55 Trim, whose stylish gold chain pairs perfectly with colourful tailoring, or brightens up those classic muted autumnal shades.
Natural tones
This style is all about subdued, neutral shades - those hues that effortlessly pair with anything! Start with shoes in tones of blush, beige or camel and pair them with an outfit in similar colours. Experiment with different neutrals to find your favourite and look that's both timeless and chic. Try our Funny Dream available in sand and other go-to colours, or opt for the iconic Clarks Wallabee in light pink or cola suede.
Chunky loafers
Loafers are back with a bang this autumn - and this season, they're arriving with chunky soles in-keeping with the statement silhouettes we're seeing on all shoe styles. This season, experiment with alternative finishes, like the Orinoco 2 Loafer in Chestnut leather and or black patent leather. Want more trending loafers? Check out our article on best loafers for women.
Chunky sneakers
The chunky trend isn't going anywhere this autumn - and in pink, grey and white metallics, our Barleigh Lace is the perfect pair to enliven your shoedrobe. For a smarter take on the trend, opt for the Un Rio Zip in blue, black and white. Contrasting soles make these chunky trainers stand out from the crowd, too.
Multi-coloured trainers
In retro-inspired silhouettes, multi-coloured trainers are here to stay. Approved by celebs like Zendaya and Adut Akech, dip your toes into the trend and try our Torrun in pink, green or white. Style with mom jeans or wide-legged trousers. Looking for a more understated take on the trend? Check out our Dash Lite trainers in blue and white, grey, white and pink, or a white and brown combination.
Sports-inspired shoes and sneakers
From timeless sneakers to high-top trainers, when it comes to sports-inspired shoes, it's game on this autumn! Try basketball-inspired silhouette Craft Cup in fresh white leather for a style slam dunk - or keep the vibes vintage with cupsole profile Roxby Hi in black or white. Style yours with denim for a stone-cold classic look.
It's officially boot season - so if you're looking for more shoe styling ideas, look at our wide range of women's boots.
Men's autumn fashion: 3 footwear trends this season
Chunky soles
From trainers to boots, chunky soles are top of this season's footwear trends for men as well as women. Look out for classic silhouettes with a chunky twist, like our Ernest Limit brogues with cool contrasting chunky soles. And we've been pioneering this trend for decades now - explore our Clarks Originals collection and you'll find chunky soles on classic styles including the Desert Trek and Wallabees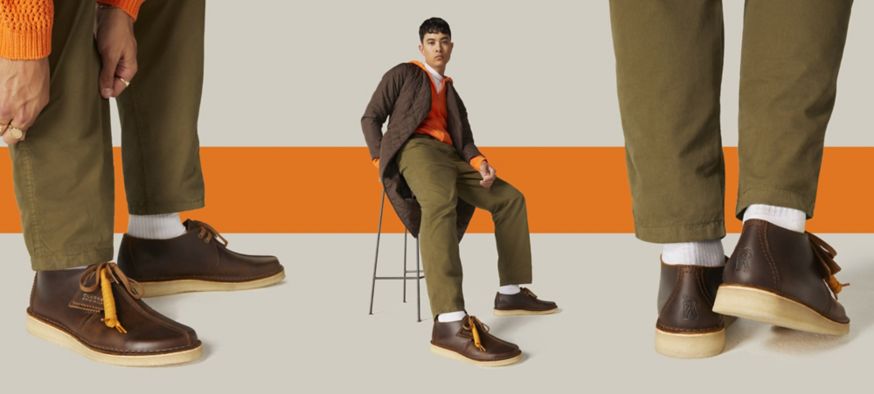 Retro trainers
Retro-inspired footwear has been in style season after season, and this autumn we're spotlighting retro trainers. From subtle nods to embracing the trend boldly, choose from styles with muted colourways like our Craft Court Lace, or try a brighter contrasting pair like Craft Run in retro-inspired brown and green. Pair with your go-to outfit of jeans and a sweatshirt and let your trainers do the talking.
Desert boots
Desert boots are always a big trend for men in autumn, and 2022 is no exception. Super stylish and incredibly practical whether you're pacing through the countryside or strolling in the city, our Court Lite adds a sporty feel to the iconic desert boot profile, while our Desert Cup adds a Wallabee sole to this classic silhouette. Browse our men's boot collection here.
Explore our full collection of men's shoes and women's shoes to find your perfect autumn look.