Your browser is out of date and will not be compatible with our website.
Please download one of the following browsers to be able to easily view our website.
Autumn Shoe Trends 2020
It may feel as though summer has only just arrived, but autumn is already right around the corner, which means we'll soon be wrapping up and getting ready for long walks through crisp autumn leaves followed by cosy evenings in front of the fire. A change of season means it's time to pack away your summer clothes and dig out your favourite jumpers and boots, but what shoes are in fashion this autumn?
Here are some of the top footwear trends we expect to see this autumn, with autumn outfit ideas to help you style this season's shoes.
Women's autumn shoes: 6 trends to look out for
Bright heels
This autumn is looking bright, and one particular trend that will be hard to miss is the bold and bright heel. Trial the trend by adding a bright heel like the Kaylin Cara in pink to a more muted outfit, or embrace it fully by pairing the Laina 55 in a fuchsia shiny croc finish with an equally bright but contrasting outfit.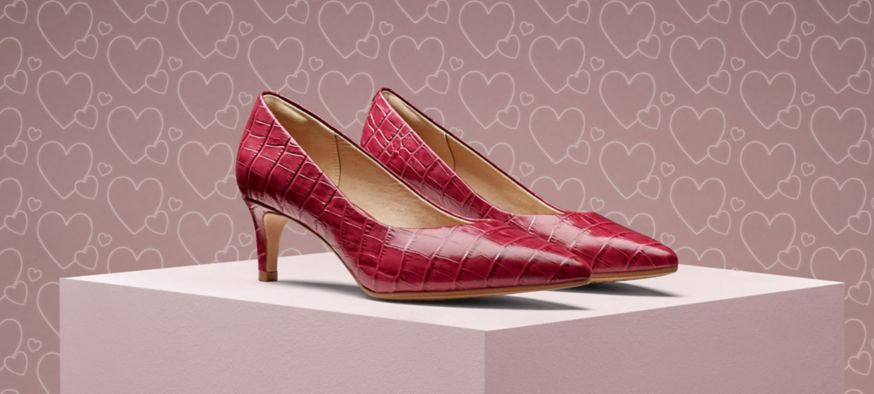 Natural tones
Quite the opposite of the first trend, this style is all about subdued, neutral tones. Start with shoes in shades of blush, beige or camel and pair them with an outfit in similar tones. Experiment with varying shades of neutral to achieve a look that is both timeless and sophisticated. Try the Pure Tone in blush, as seen in Keeley Hawes' edit, or go for Clarks' iconic Wallabee in light pink or oak.
Contemporary brogues
While loafers have been the more prominent flat shoe of late, brogues are back for autumn, but with a twist. This season, experiment with alternative finishes, like the Hamble Oak brogues with a touch of snake print or leopard print or in a silver or stone metallic.
Chunky soles
Shoes with chunky platform soles have been on trend for a while now and they're set to stay. Try them in trainer-form with our Hero Walk lace-ups in metallic stone, leopard print or black croc, or for a smarter take on the trend, opt for the Trace Tassel in grey snake or black croc. All the finishes mentioned feature contrasting soles so that they really stand out.
Combat boots
Sturdy combat boots replace last year's hiking boots this season. It's a more sleek and subtle take on the lace-up boot and can toughen up any outfit. Style a pair of Witcombe Hi with a slip dress and tights, or tuck wide legged trousers into a pair of Orinoco Spice.
Tiger print
Every season seems to celebrate a different animal print, and this autumn we turn to the tiger. The combination of black and warm brown lends itself perfectly to autumn. Liven up a monochrome outfit with a bold, statement pair of tiger boots like our Tiger Print Desert Boots, created in collaboration with National Geographic and printed with a tiger print from the Photo Ark book by photographer Joel Sartore.
Men's autumn fashion: 3 footwear trends this season
Chunky soles
From trainers to boots, chunky soles are at the forefront of this season's footwear trends for men. Look out for classic silhouettes with a chunky twist, like our Ernest Limit brogues with a contrasting chunky sole. This is a trend that Clarks has been pioneering for decades – explore our Clarks Originals collection and you'll find chunky soles on several of our classic styles, including our Desert Trek shoes and Wallabees.

Retro trainers
Retro footwear never seems to go out of style, and this autumn we're celebrating retro trainers. To embrace this trend, you can go as bold or as subtle as you feel confident with. Choose from styles with muted colourways like the Hero Air Lace, or try a brighter pair with bold contrast like the Kiowa Pace in retro-inspired brown and yellow. Pair with an everyday outfit of jeans and a sweatshirt and let your trainers stand out.
Utility boots
Utility is a big trend for men this autumn, especially when it comes to footwear. Not only are utility boots stylish, they're also incredibly practical whether you're pacing through the countryside or the city. Our Batcombe Alp boots are a subtle take on utility style, while our Tri Path Hike boots champion the chunky sole trend so you can follow two autumn footwear trends at once.
Explore our full collection of men's boots and women's boots to find your perfect pair of autumn shoes.