Your browser is out of date and will not be compatible with our website.
Please download one of the following browsers to be able to easily view our website.
Best Heels for your Foot Shape
High heels have a reputation for being uncomfortable and even painful to wear, yet with the right pair of heels chosen specifically for your foot shape, you should barely notice you're wearing them (except for the added confidence).
The key to finding a comfortable pair of heels is knowing your foot type and understanding the types of heels that are most suitable. If you have flat feet then your requirements will be different to those with high arches, and if you have narrow feet, you'll want a different style compared to someone with wide feet.
Read on for a guide on choosing the right heels for your foot type.
Ensure you have the right size shoes
As with any shoes, selecting the right size and the correct fit is essential when choosing a pair of heels. At Clarks we offer half sizes and a variety of widths to ensure your shoes are the best possible fit. Explore our fit guide to find the right size for your foot.
Heels for flat feet
There are two types of flat feet: rigid and flexible. If you're unsure which type you have, a podiatrist will be able to advise you. Those with rigid flat feet should generally avoid heels, but if you have flexible flat feet, you can generally wear a low heel with good arch support. Look for kitten heels and styles that are around two inches tall or less, like our Laina 55 court shoes, available in a choice of three colours.

Consider a pair of heels from our Ortholite range, which have performance insoles to support your feet. You could also add your own insole to your pair of heels if required. Our Un Lidel Lo heeled boots have a removable insole so that you can replace it with your own bespoke insole should you require extra support.
If your flat feet cause you discomfort, you should seek medical advice or visit a podiatrist before choosing an insole and a pair of heels.
Heels for high arches
Having high arches means that the middle of your foot doesn't fully come into contact with the ground, which results in poor shock absorption. As such, you should look for a heel with a rubber or cork platform as both of these materials are natural shock absorbers. Our Maritsa Glad heels are a good example of heels for high arches. They have a rubber sole and chunky cork heels, and are available in black, blush or sage.
If you have high arches, you may also find higher heels comfortable, so explore our range of high heels and take your pick from stilettos, courts and T-bar heels.
Heels for narrow feet
If you have narrow feet, then you may have struggled in the past to find a pair of heels that support your feet and keep them snugly in place. The best heels for narrow feet are those with adjustable fastening, which allow you to find the most comfortable fit for your foot shape.
Our Maritsa Lara heels have a riptape fastening that provides a secure fit and allows you to tighten the shoe to fit your narrow feet comfortably.
Heels for wide feet
Gone are the days when having wide feet meant that you had to sacrifice wearing heels. At Clarks we offer wide-fit styles designed to fit wider feet, and our collection features styles from court shoes and kitten heels to wedges and platforms.
Open toe heels like the Un Capri Step are a particularly good option for those with wide feet as they allow for extra breathing room. This style's riptape fastening also allows you to adjust the fit of the shoes for extra comfort.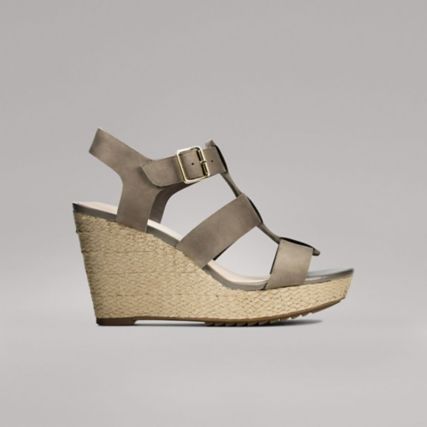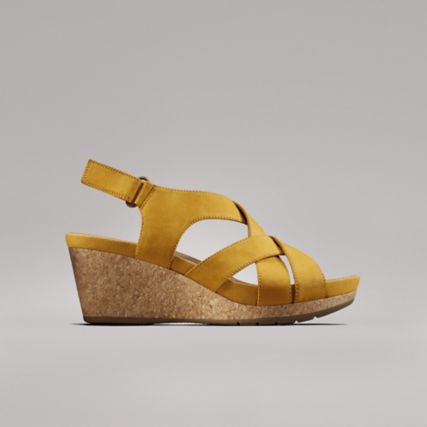 No matter your foot shape, if you have any problems with pain or discomfort, consider speaking to a medical professional. We recommend alternating heels with flat shoes to give your feet time to rest, and you could even carry a spare pair of flats with you in case of emergency.
Explore our full range of heels and read our guide to finding the most comfortable party shoes.