Your browser is out of date and will not be compatible with our website.
Please download one of the following browsers to be able to easily view our website.
The Best Loafers for Men
Timeless and completely versatile, it's no wonder loafers stay in style year after year! And today, loafers are just as relevant and iconic as they have ever been. Whether you're looking to upgrade your shoe collection for autumn or need a shoe to cinch that special occasion, our list of the best loafers for men will give you all the style inspiration you need.
From formal affairs to evenings out with friends and family, quality loafers are a no-brainer when it comes to elevating your look - whether paired with shorts, jeans, trousers, or chinos., Read on for tips and inspiration on what type of loafers best suit your style.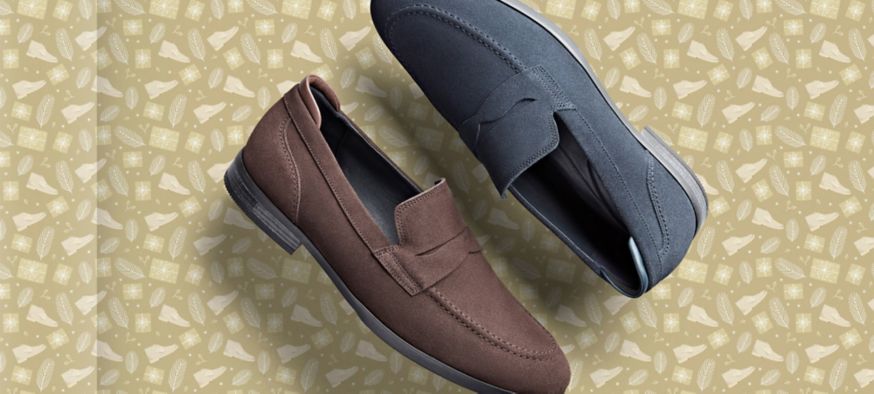 1. Oswick
Inspired by the classic moccasin silhouette, opt for this leather loafer for a sleek yet retro-tinged aesthetic. You can't go wrong with black or brown leather - but for a more vintage feel, try denim blue or olive suede to create a look that stands out from the crowd this autumn. Our signature Clarks comfort is front and centre, too, thanks to breathable leather linings, underfoot foam cushioning, and flexible soles.
Style Tip: While the Oswick is ideal for formal wear, it's also one of our most versatile pieces ever and looks just as good with casual pieces. Try the suede Oswick with khaki chinos or jeans for effortless cool. When it comes to what socks go best with this loafer, there are no set rules - but we think for casual outfits, ultra-low socks are your best bet.
2. Atticus LT Edge
Ultra-stylish and versatile, we love penny loafer Atticus LT Edge. In premium navy nubuck and classic black, brown, and tan leathers, this staple shoe is upgraded with modern comfort credentials. Lightweight sneaker-inspired EVA soles make it incredibly comfortable - so you look as good as you feel.
Style Tip: Ideal as a relaxed silhouette for that laid-back autumn look, pair the navy nubuck and dark tan leather Atticus LT Edge with a pair of Khaki pants.
3. Donaway Step
The most comfortable loafer in our collection? Perhaps! Sports-inspired slip-on Donaway Step boasts stretch that hugs your feet in custom comfort, as well as ankle padding for additional softness - making this pair easier to take off and guaranteeing free movement all day long.
Style Tip: For eveningwear, try Donaway Step in black leather - or if you're looking for a slightly more casual look, opt for dark tan leather with smart jeans.
4. Bratton Step
Love sneakers? Then Bratton Step is the pair for you. White EVA soles bring a trainer-inspired touch to these more casual silhouettes, channelling cool sneaker style as well as that bouncy comfort. Added stretch makes slipping this loafer on and off an absolute breeze, too.
Style Tip: Style this pair with smart-casual ensembles for an elevated alternative to your usual trainers or boots.
5. Citi Stride Slip
Inspired by European shoemaking, this tasselled loafer in premium black leather is ideal for smartening up - whether you want to be the best-dressed wedding guest or putting your best foot forward in the office. Sore soles are a thing of the past, thanks to our Cushion Plus™ foam footbeds that support feet all day - and its lightweight construction takes a load off, too.
Style Tip: The ultimate formal loafer, Citi Stride Slip is your suit's best friend.
Looking for more loafers? Check out our wide collection of men's loafers and be inspired with our collection of boots, trainers, casual shoes, and wide-fit shoes here.