Your browser is out of date and will not be compatible with our website.
Please download one of the following browsers to be able to easily view our website.
Back to School: A Guide to Kids' Plimsolls
Whether they're tearing across the playground, running home when the bell rings or playing in the park with their friends, every child needs a comfortable and supportive pair of shoes to wear both in and out of school. Plimsolls have been a staple in children's school uniforms for years, and for good reason, as they are highly durable and provide support for growing feet.
Read on for our guide to shopping for kids' plimsolls, including how they should fit, whether they're suitable for physical activity and how to keep them clean.
What are plimsolls?
Plimsolls are shoes that are typically made from a canvas upper and a rubber sole, and they often also have a protective toe bumper to ensure that they're long-lasting.
Suitable for all ages, from toddlers to adults, and for all kinds of activities, these humble shoes got their name from 'The Plimsoll Line'. This was a measurement on a ship that marked the maximum depth that the vessel could be safely immersed to when loaded with cargo. Formerly known as 'beach shoes' when they were created in the 1830s, people began nicknaming them 'plimsolls' due to the line where their two fabrics meet and its resemblance to The Plimsoll Line.
From light day-to-day wear to sprints around the school field, they're highly versatile for kids. You can find plimsolls in a variety of colours and styles, including slip-on, riptape and lace-up designs.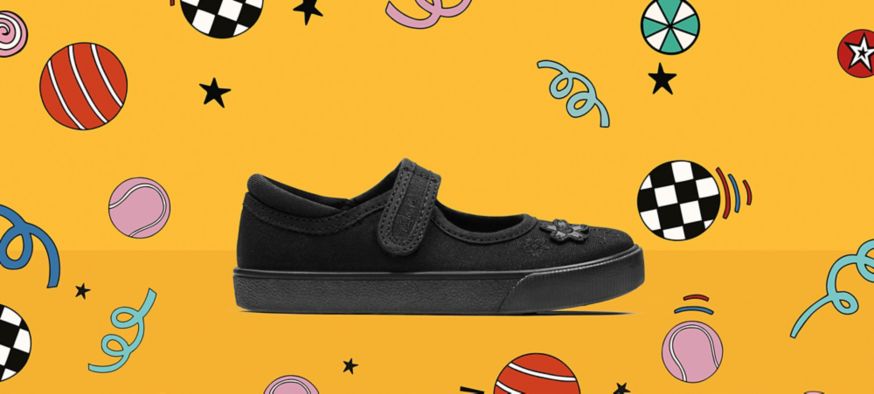 How should plimsolls fit?
While it can be tempting to size up when buying kids' plimsolls and school shoes, this should be avoided to ensure they are properly proportioned to your child's feet and don't allow unnecessary movement within the shoe. At Clarks, we offer an in-store shoe fitting service to ensure you find the perfect fit for your children's shoes.
Ideally, your child's foot should have enough room on either side of the shoe to move comfortably, while their toes should not be touching the tip of the shoe either. A walk up and down the store, as well as jumping briefly, should help you to gauge just how well they fit, too.
If you're ordering plimsolls online and can't make it to a store, order our shoe gauge to determine your child's shoe size from home before purchasing a pair. As well as a multitude of sizes to choose from, we also offer a variety of widths for our plimsolls so that you can find the best fit.
Do school plimsolls only come in black?
You can find plimsolls in an array of colours, however black is by far the most common, and black school plimsolls usually adhere to school uniform dress codes.
Plimsolls for PE
Can my child wear plimsolls for PE?
Whether your child can wear plimsolls for PE classes is dependent on their school's uniform policy. The shoes provide good grip on surfaces and the sole flexes with the foot, so if they're accepted as part of school uniform, then it's a good idea for kids to wear them for PE.
Can children run in plimsolls or are trainers recommended?
Not only are children able to run in plimsolls, but they are often encouraged to, both in school and by scientific studies. It is believed that shoes with flat soles, such as plimsolls, are more supportive for kids' feet and encourage a more natural form for running by utilising the front part of the foot. Adversely, scientists believe that the chunky heel often found in trainers leads to runners landing on their heel, which causes more impact for the foot.
The flexibility that the soft upper fabric of plimsolls offers, paired with the flexible sole, also means that children are able to have a wide range of movement and comfort throughout the day.
How to wash plimsolls
All of our plimsolls are machine washable, so don't fret if your child gets mud or stains on them. Simply tap the shoes against an outdoor wall to remove any excess dirt before putting them in the washing machine on a 30°C wash with non-bio detergent. They'll look as good as new in no time.
Explore our full range of kids' plimsolls to find the perfect pair for them to wear in or out of school.