Your browser is out of date and will not be compatible with our website.
Please download one of the following browsers to be able to easily view our website.
How to choose the right
Clarks technology for you
When choosing a new pair of shoes, it's important to consider exactly what you want from them. If you're going to be wearing them for long stints outdoors come rain or shine, then it's important to choose a pair that's waterproof. If you find your feet ache after too long standing up, you might want to prioritise extra cushioning, or if you often notice your feet overheating, breathability could be a consideration.
Comfort is at the heart of every pair of shoes we make, which is why it's our mission to create pioneering new technologies that provide you with unbeatable comfort, whatever your needs and priorities. Read on to find out more about our technologies and how to choose the right technology for you. Some of our shoes feature more than one, and you can filter by technology across our website to find the perfect pair for you and your feet.
Waterproof walking shoes
When you're off on outdoor adventures, be that in the mountains, on the coast or in the city, the last thing you want is soggy feet dampening your fun. That's why we use GORE-TEX, a specially developed membrane that's waterproof, windproof and breathable. Our GORE-TEX products, including waterproof walking shoes and boots and waterproof trainers, help to keep your feet dry and comfortable while you explore, whatever the weather.
Do I need to spray GORE-TEX shoes to make them waterproof?
The GORE-TEX membrane has pores that make them breathable, but that are small enough to prevent water droplets from sinking in, and a water-repellent coating also causes water to roll off instead of being absorbed into the shoe. Thanks to this technology, there's no need to spray GORE-TEX shoes to make them waterproof.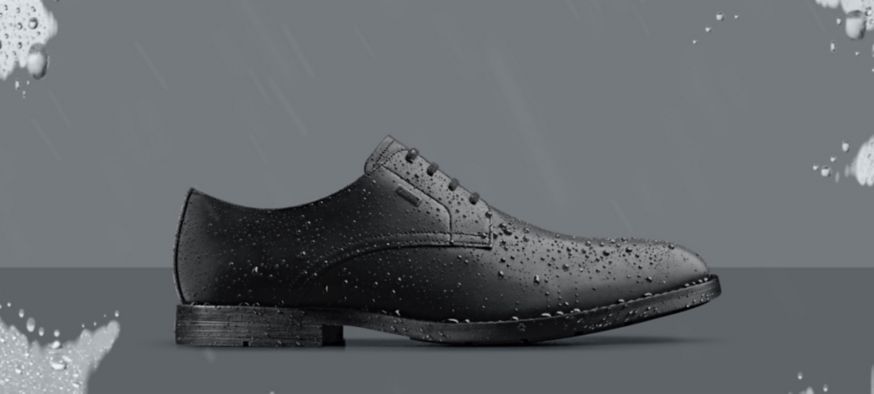 How often should you wash GORE-TEX?
Mud and dirt can lead to excess wear and tear, so it's important to look after your GORE-TEX shoes to help them last. After every muddy walk, give them a quick clean using lukewarm water and a cloth or brush to remove any dirt. Stuff them with newspaper and lay them upside down to dry – keeping your shoes away from direct heat.
Cushioned shoes
Often when we get sore feet from moving all day, it's because our shoes aren't supporting us in the right places. Thin soles and lack of cushioning on the ball and heel of your feet can cause your feet to strain, but our cushioning technologies, including Cushion Plus™ and OrthoLite®, provide support where it's needed most. If you often feel like you need extra support, then a pair of our cushioned shoes could be for you.
What is Clarks Cushion Plus™?
With precise, anatomically targeted dual density cushioning, our Cushion Plus™ technology increases comfort while also supporting the biomechanics of your foot, restoring it to its natural position so that you can move in the way that's best for you. Cushion Plus™ is available in a wide range of our shoes, from women's boots and heels to men's trainers and loafers, so your feet can feel supported no matter the occasion.
What is OrthoLite®?
Combining long-lasting cushioning and impact absorption with moisture-wicking technology and stylish design, our selection of OrthoLite® shoes and boots help to keep your feet fresh and comfortable throughout the day. OrthoLite® technology is available in a wide range of our shoe and boots, including pumps, trainers, sandals and our Desert Boot 2 – an innovative take on the iconic style.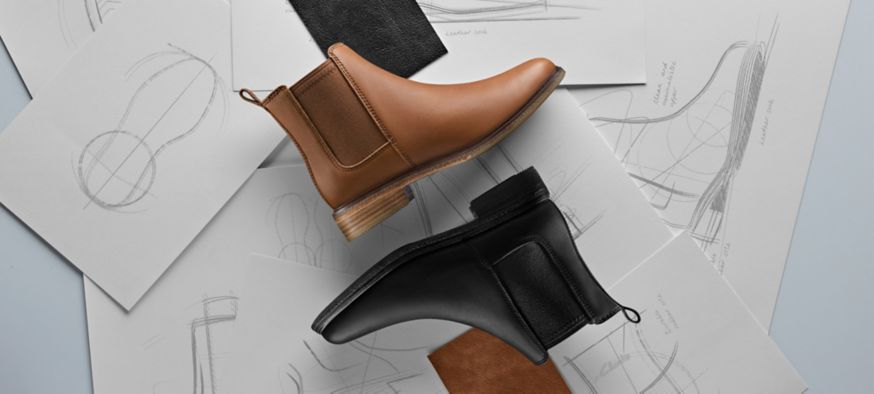 Breathable shoes
Say goodbye to hot and sweaty feet with a pair of shoes designed with breathability in mind. Made to help you move more comfortably, our breathable technologies harness the power of air to improve circulation and ventilation.
What are the best shoes for sweaty feet?
When it comes to selecting shoes for sweaty feet, it's less about the material of the shoes and more about the technologies behind them. A good pair of breathable shoes will be designed to improve ventilation, like our shoes with Active Air™ technology. Each pair has a pump hidden in the heel, which cushions feet and ventilates them by silently drawing fresh air in from outside. The result? Cool, cushioned and comfortable feet.
Find out more about the technologies used in Clarks footwear, or browse our full range of trainers or walking shoes to find your next pair of comfortable, advanced-tech shoes.