Your browser is out of date and will not be compatible with our website.
Please download one of the following browsers to be able to easily view our website.
How to choose the best shoes for working on your feet all day
Some of the most demanding jobs are also the ones where workers need to be on their feet all day, whether that's in an office environment, at a hospital, in retail or hospitality, or outdoors. In these roles, the right shoes – ones that are comfortable, supportive and a good fit – can help turn a bad day into a much better one. Read on for tips on finding the best shoes for working on your feet.
Why do feet hurt after standing all day?
If you work on your feet all day, you may be all too familiar with the pain and discomfort your feet can be subjected to. The force of your body weight is being absorbed by the bottom of your feet, putting pressure on particular areas of your feet that are in contact with – or are trying to make contact with – the ground.
Putting stress on your feet for long periods of time can amplify existing foot conditions, such as corns, calluses or certain foot deformities, and it can also cause ankle pain, back pain and overall alignment issues. But the right shoes can work wonders...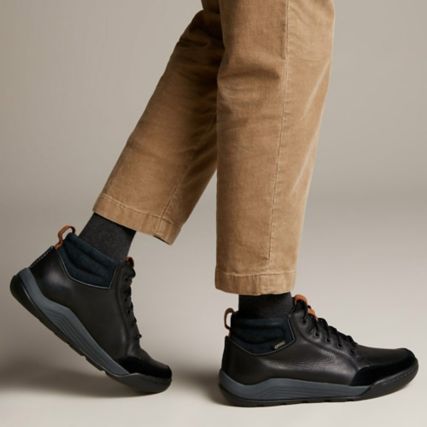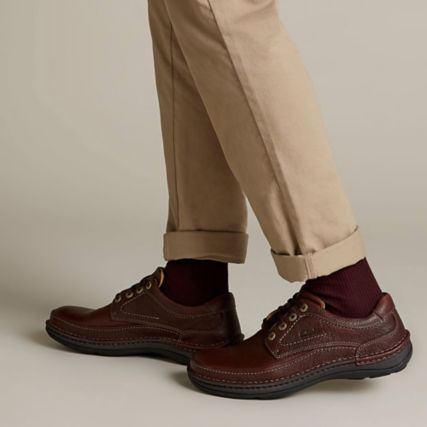 How to choose comfortable work shoes for standing all day
When choosing a pair of shoes for being on your feet all day, there are certain qualities you should look for:
The right size - There can be quite a bit of variation between brands and styles, which means that we often end up wearing the wrong size shoes. Go into any Clarks store and one of our expert staff will help you find the right size in the style you're looking for. Our staff will also happily point you in the direction of some of our most comfortable shoes for work.

Arch support - There's little worse than achy arches. Choosing a shoe with good arch support will help to distribute weight across the foot, reducing the pressure on your arches.

Cushioned sole - Like arch support, a cushioned sole will help to reduce impact on your feet, making standing all day much more bearable.

Wide toe box - A narrow-fitting shoe can be torturous during long hours of standing, especially as your feet expand throughout the day, so look for a shoe with plenty of room for foot splay.

Good grip - Whether you're working indoors or outdoors, it's important to find a shoe with good grip and traction to prevent any nasty slips and falls.

Durable - Your shoes are going to experience a lot of wear and tear, so choose a good quality pair made from durable materials to avoid having to replace them too often.

Lightweight and breathable - Your feet are already bearing your own body weight for hours a day, so make things that little bit easier for them by choosing a lightweight and breathable pair of work shoes.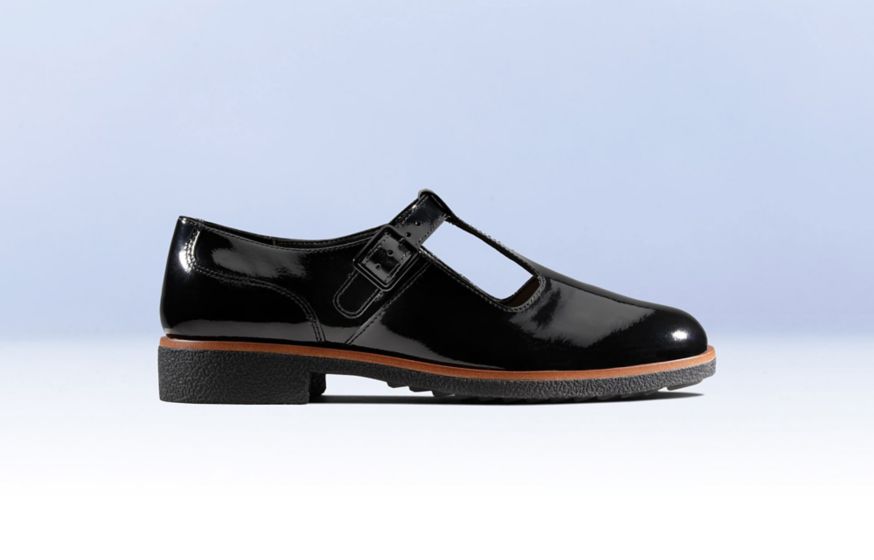 Shoes for working outdoors
As well as taking into account the qualities mentioned above, if you're working outdoors on your feet then you'll also want to consider finding a pair that are waterproof, ultra-durable and offer good protection if your work involves heavy lifting or working with machinery.
Work shoes for nurses and doctors
Clarks has a collection dedicated specifically to nurses and doctors, comprising shoes made from durable and hardwearing materials. Our nurse shoes also have breathable linings to keep your feet fresh and comfortable during long shifts.
One of our most popular and comfortable styles is the Un Loop from our Unstructured range. Hailed as one of the best pair of nurse shoes, it has all the elements needed to protect your feet, while helping them to move naturally.
Comfortable and trendy work shoes
Choosing comfortable shoes should never have to mean compromising on style, and if you work in an office environment then you want to balance looking the part with feeling comfortable on your feet.
Clarks has a wide range of comfortable yet smart and stylish shoes to choose from. Explore our range of women's work shoes, featuring everything from court shoes to loafers. Our collection of men's work shoes features classic Oxford styles and brogues as well as loafers and smart boots.
Filter by technology to find a pair that meets your needs – whether that's additional cushioning or a pair that are extra light.

How do I stop my feet from hurting when I stand all day?
As well as choosing the right shoes, there are several other things you can do to take care of your feet, either to prevent them from hurting or to ease the pain after a long shift. Please note that it's always a good idea to speak to a podiatrist for tailored advice specific to your own feet.
Insoles - Insoles can help by providing additional shock absorption and helping to better distribute your body weight across the entirety of your foot. The better an insole fits, the more effective it is, so speak to a specialist to find out if insoles would benefit you and to find the right type.

Stretch - Muscles can become stiff and painful when you're on your feet all day, so try to take regular breaks where possible to stretch and relieve foot and ankle pain. Downward facing dog, runner's stretch, hero's pose and bound angle pose and just four examples of stretches that target the right areas.

Ice your feet - At the end of a long day, soaking your feet in a bowl of ice water – as unappealing as that may sound – will help to reduce swelling and inflammation. Soak them for 20 minutes and you should notice an immediate difference.
Now that you know what to look out for, explore our full collection of comfortable shoes for work.