Your browser is out of date and will not be compatible with our website.
Please download one of the following browsers to be able to easily view our website.
How to Clean White Shoes of All Different Materials
White shoes are always on trend, thanks to their amazing versatility and their ability to work with just about any outfit. From white heels and white trainers to white sandals and white boots, there are so many styles of white shoes to complement your look.
No one likes dirty shoes, but luckily there are many simple ways to clean your white shoes – whether they're made from leather, suede or canvas. If you're wondering how to remove mud from your white shoes or just want to spruce them up a little, keep reading for our guide on the best way to clean white shoes without damaging them.
How to keep white shoes white
Prevention is key when it comes to keeping white shoes white! Here are some steps you can take to protect them as best as possible.
Before leaving the house, try spraying your shoes with a protector like our Protector None, which will create an invisible, breathable barrier that repels rain and stains. If your shoes are made from leather, polishing them every one to two months will help protect them from rain and stains, while buffing them to a brilliant lustre. Find out more about how to polish your shoes.
When out and about in your favourite white shoes, it's wise to stick to footpaths and pavements rather than grass, particularly after a rainy spell. We all know too well what our temperamental British weather is like—and while we don't always know what we're going to get when we leave the house, sunny and dry days are best to take your white shoes for spin, since rain can make dirt more likely to stick to your shoes (and no one wants that!)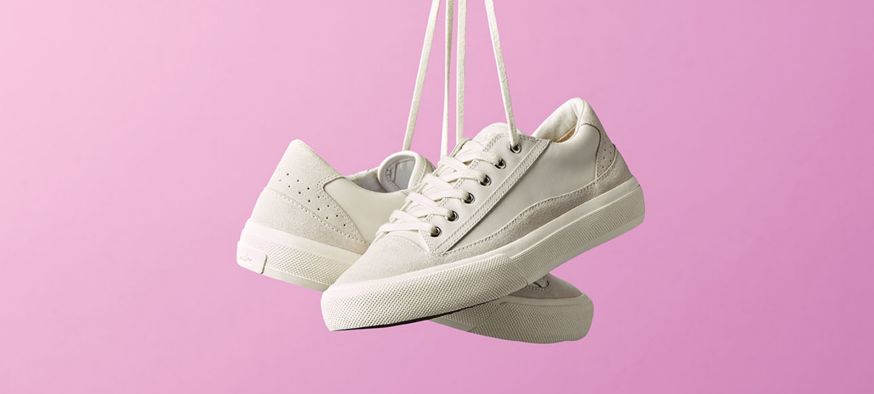 How to clean white canvas shoes
With their breathable and light fabric texture, white canvas shoes can easily gather pesky stains – but thankfully, they're surprisingly straightforward to clean. As an added bonus, you probably already have these materials in your kitchen!
Step 1
If you want to whiten shoes fast, then you don't always need fancy, expensive materials to do the job. For this cleaning method, you'll need one tablespoon of baking soda, two tablespoons of white vinegar and a cup of warm water. Mix the materials together using a spoon until it forms a paste.
Step 2
Using a cloth or a clean toothbrush, dab a small amount of the paste onto your shoes and begin scrubbing until the stains have budged.
Step 3
Leave your shoes to air dry, then brush off any remaining paste. Your shoes should now be looking bright and gleaming white.
How to clean white leather shoes
White leather shoes are some of the easiest to clean, since leather doesn't absorb stains like other materials. Most of the time, a baby wipe or damp cloth will do the trick—but if you want to give your shoes more of a thorough cleaning, follow the steps below:
Step 1
If your shoes have laces, remove them and put them to one side. Use a shoe brush to get rid of any dried dirt or debris on the surface of the leather.
Step 2
Tackle stubborn stains using a cloth or toothbrush dipped in a mix of soap and warm water. Begin by using a dabbing motion on the stains, adding more pressure if the stain isn't budging.
Step 3
Wait for your shoes to dry before finishing with a quick polish using our Quick Shine Sponge. No buffing is necessary—simply wipe the pad lightly over the surface of the shoe.
Step 4
Wash your laces in a separate bowl of soap and water and let them dry before relacing your shoes, which should now be spotlessly clean and white again. Job done!
Tip: Most trainers are made out of leather, so if you're wondering how to clean your white trainers, then simply follow the steps above.
How to clean white suede shoes
There are two things you should know about suede: it's super delicate, and it doesn't react well to lots of water. We want to keep this beautiful material looking its best, so following the handy cleaning tips below should do the trick:
Step 1
Begin by using a shoe brush like our Multi Brush to gently remove any spots and marks. Make sure you brush with the grain, which is the direction the suede naturally sits.
Step 2
Our Multi Brush comes with a rubber attachment specifically for use on suede, but if you don't have a suede rubber, then any pencil case version will do the job. Rubbers can be used as a more rigorous approach for removing tougher stains and marks—so if your shoes are already looking clean after the first step, you can skip this one!
Start gently rubbing in the direction of the grain, and gradually increase pressure until the stain begins to shift.
Find out more about how to care for your suede shoes.
Cleaning white shoes can be a piece of cake, no matter what they're made from, and some regular TLC will help to keep them looking as good as new. If you're searching for a new pair of white shoes, take a look at our collection of Men's Trainers and Women's Trainers, or check out our guide on how to wear white shoes.