Your browser is out of date and will not be compatible with our website.
Please download one of the following browsers to be able to easily view our website.
How to Dress for Autumn
Falling leaves, crackling campfires and cosy nights in can only mean one thing: autumn has arrived. Besides the changing of the weather, one of the most exciting things about a new season has to be all the new outfit opportunities. Out go the summer dresses and sleeveless tops, and in come baggy hoodies and cosy knitwear. Is there anything more satisfying?
Read on to find out all about how to dress for autumn, including those clothing wardrobe essentials and the best shoes for the season.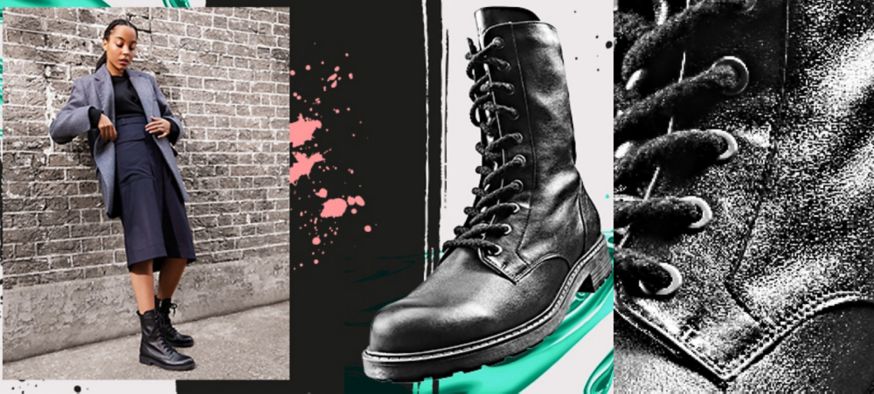 What to wear in autumn
With many of us working from home, comfortable fashion has never been more of an essential. And while it's totally acceptable to wear the same hoodie and pair of leggings all week (who are we to judge?) if you're planning on stepping out of the house, it's easy to put together a look that will turn heads for all the right reasons. Here are some essential pieces you need in your wardrobe this autumn:
Comfy cardigan
As the weather turns colder, knitwear makes its inevitable fashion comeback – so since you never have to worry about it going out of fashion, your favourite chunky knit cardigan can last you years! Knit cardigans look great with a simple outfit like black skinny jeans and a cotton tee, finished with a pair of black ankle boots.
Wide leg jeans
While skinny jeans will always be on trend, wide leg jeans have quickly emerged on the style scene—and we couldn't be happier. Not only do wide leg jeans look super cute, but they allow for a lot more breathing space than skinny jeans, while keeping your legs covered from that winter chill. Wear with a tucked in button-down shirt for effortless glam.
Oversized sweatshirt
Stylish, versatile and the epitome of comfort, oversized sweatshirts are one of our favourite wardrobe staples for autumn. Pair your favourite oversized sweatshirt with black leggings and a warm scarf for an autumn walk in the park, or for a girl's night out, dress your look up Arianna Grande style with knee-high boots, a pair of shorts and statement jewellery.
The best shoes for autumn
As we transition into autumn, it's time to pack away your summer sandals and re-introduce seasonal styles back into your wardrobe. While certain shoes like trainers can be worn year-round, there's one style that only tends to come out during colder weather, and we can never get enough of it: the versatile boot.
Stylish, comfortable and practical, women's boots are the perfect shoes for autumn and winter, and you'll struggle to find an outfit that a pair of boots won't go with! Autumn boots come in all different styles, but what styles are on trend this year?
What boots are in style for 2021/2022?
This season it's all about ankle boots, Chelsea boots and knee-high boots. Here we've showcased some of our favourite styles, along with tips on how to wear them.
The best ankle boots
The best thing about ankle boots is they'll go with virtually anything in your wardrobe. Wear them however takes your fancy, whether that be with jeans, dresses or skirts, and with tights or bare legs. This is one fabulous item in your autumn wardrobe that you're guaranteed to get bucket loads of wear from.
Flat ankle boots
Ankle boots are the perfect transitional style, and since they're super easy to walk in, flat ankle boots are an autumn favourite. In fact, these are without a doubt the best boots for office work, since you won't have to worry about trying to walk in heels! Opt for flat ankle boots in classic materials like leather or suede for an effortlessly stylish look.
Heeled ankle boots
Ideal for autumnal date nights and evenings out, heeled ankle boots are a toasty alternative to heeled sandals when the temperature drops, and are perfect for those dressier events where you don't fancy getting frostbitten toes!
The best knee-high boots
Knee-high boots are a trend that never truly dies, and what better way to embrace that than with a pair of classic black leather knee-high boots. Thanks to their extra coverage, these boots will keep your legs lovely and warm while turning every head in the room!
Wear your knee-high boots with a cute midi skirt or dress, or pair with tucked-in trousers or jeans for a more casual affair. Black leather knee-high boots are guaranteed to add instant style and sophistication to your outfit, so wear these super versatile shoes to work, on the weekend, on nights out and beyond.
The best Chelsea boots
While theoretically a type of ankle boot, Chelsea boots are so wonderful that they deserve to be within their own category. Identified by their elastic side panel, Chelsea boots are typically made from leather, with a rounded toe and a low heel.
If you're wondering how to wear Chelsea boots, here are just a few tips for inspiration! As with other ankle boots, the fabulously versatile Chelsea boot can be worn with just about anything. If you pair them with trousers, turn up the legs so that they sit just over the top of your boots, so you can show off your gorgeous boots to the world!
Heeled Chelsea boots
Adding a heel to a Chelsea boot elevates it from chic to 'wow!' Wear with a cute midi skirt and satin top for an unforgettable date night outfit, or pair with a suit skirt and blouse for chic office attire.
So there you have it, everything you need to know to help you look your best this autumn. If you're planning on getting outdoors and tackling rougher terrain, read our guide on the best walking boots.