Your browser is out of date and will not be compatible with our website.
Please download one of the following browsers to be able to easily view our website.
How to wear ankle boots in winter
Ankle boots are a wardrobe essential for women, and have been for as long as we can remember. They're practical, they're comfortable, and they're stylish, and, perhaps most importantly, they're incredibly versatile. They can be worn year-round, with a variety of outfits and dressed up or down depending on the occasion.
There is a wide range of styles to choose from, from casual Desert boots for day-to-day wear to chic heeled designs when you're dressing to impress. Discover the different styles of ankle boot that are on trend this season and find out how to style them.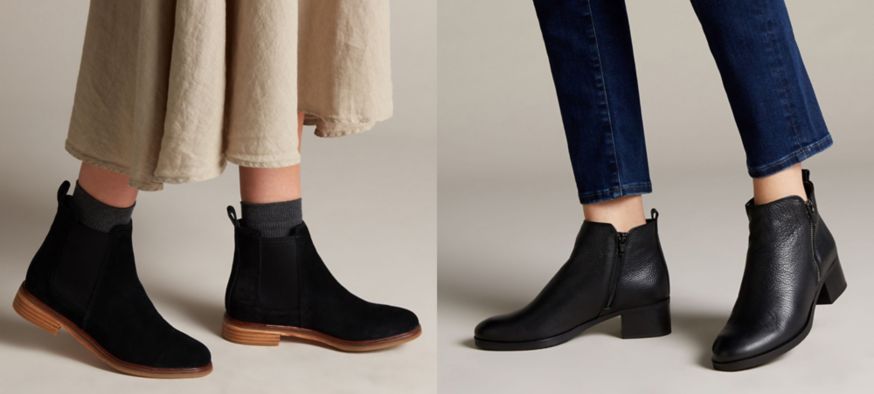 What are the different styles of ankle boot?
Chelsea boots
Chelsea boots are typically made from leather, with a rounded toe, a low heel and an elastic side panel. They were first designed in the Victorian era, but they rose to popularity in the 1950s when they were worn by artists and musicians in the Chelsea Set. Today they're more popular than ever and remain on-trend this season. The best bit? They go with virtually any outfit, from jeans and leather jackets to floaty skirts and t-shirts. Find out more about how to style Chelsea boots.
Desert boots
With a lace-up design and crepe rubber sole, Desert boots are comfortable, durable and lightweight. They're typically made from suede, making them a more laid-back ankle boot, though leather options are available if you're looking for a slightly smarter option. Like Chelsea boots, they have been a footwear staple for decades, introduced to the UK by Nathan Clark after World War II, and they remain one of our most well-known and popular styles today.
Heeled ankle boots
Heeled ankle boots will take you effortlessly from day to night and are the ideal option when you want an ankle boot that is smart, professional and stylish all at once. From heeled Chelsea boots to heeled lace-up styles, there are designs and heel heights to suit every taste.
Walking boots
No longer just for outdoor adventures, this season walking boots remain a style icon that can be worn to a wide range of occasions and with a variety of outfits. Both practical and stylish, their chunky nature will add an instant edge to any outfit, particularly a dress or a floaty skirt and top combination.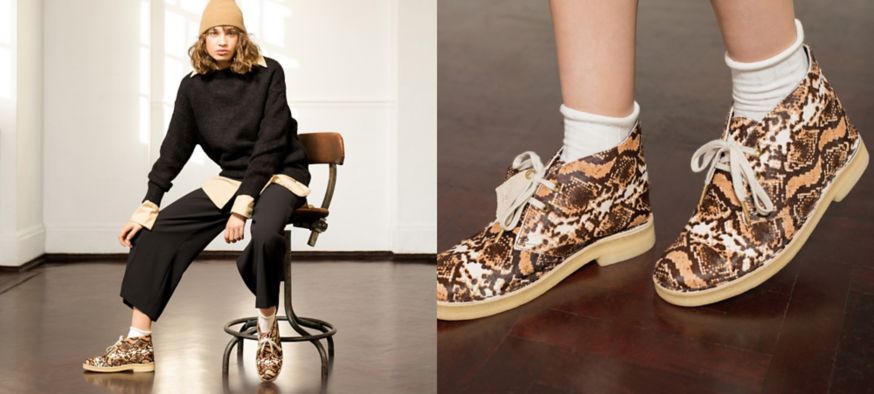 How to wear ankle boots with jeans
Is there a more classic pairing than jeans and ankle boots? Wear skinny jeans with a streamlined ankle boot like a Desert boot or another lace-up style, or wear them with heeled ankle boots for an elegant evening look. If the proportions are right, you can tuck your skinny jeans into your ankle boots, or alternatively leave a slither of skin on show or roll your jeans up, so they sit just above the top of the boot. Boyfriend jeans look great with Chelsea boots or walking boots, and bootcut jeans will sit neatly over an ankle boot that hugs your ankle.
How to wear ankle boots with dresses and skirts
Ankle boots can look incredibly stylish when worn with a dress or skirt, no matter the length or the style. Chelsea boots look particularly good with skirts and dresses, while heeled boots will help to make your legs look longer. To add interest to an outfit, consider creating contrast between your dress and your boots. For example, you could style a floaty midi dress or skirt with a chunky pair of ankle boots, or an elegant cocktail dress with a more casual leather ankle boot.
How to dress up an ankle boot
When styled correctly, ankle boots can be worn to work, to a fancy restaurant and to various other formal occasions. The key is to choose a smart pair of leather ankle boots and ensure they are well-cleaned and polished. Ankle boots with pointed toes and slender heels are probably the most sophisticated option, like our Laina 55 Boot 2. To work, wear them with a smart dress or suit, or in the evening wear them with a smart trouser and blouse combination.
It's generally frowned upon to wear ankle boots to a wedding, though there's no harm in checking the dress code to be sure.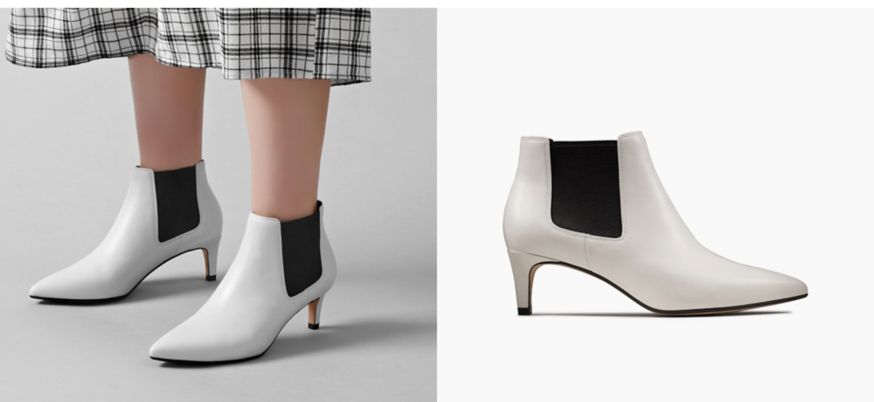 How to wear coloured ankle boots this season
If you want your shoes to be the focal point of your outfit, then look no further than a pair of coloured ankle boots. From orange and red to pink and blue, there are colour options to suit every style and preference. Coloured boots work best with casual outfits, and try to keep the rest of the outfit fairly muted – think blue or black jeans with a black or white top – to allow the boots to stand out and avoid any unwelcome clashes.
For something smarter but just as eye-catching, try a pair of white leather ankle boots. White ankle boots are a style staple this season, and they're surprisingly versatile. Style them with a monochrome outfit for a chic, coherent look, or with a colourful outfit to add a soft finish.
Explore our full range of ankle boots and style them your way this season.