Your browser is out of date and will not be compatible with our website.
Please download one of the following browsers to be able to easily view our website.
How to wear boots to work
Boots are a year-round staple for many of us, and given how comfortable, versatile and stylish they are, it's no surprise that many of us want to incorporate them into our work wardrobes too, especially in winter months. But when you're used to wearing them casually, how do you wear boots in a way that exudes professionalism?
Read on to find out how to choose boots to wear to work, followed by tips on styling ankle boots and knee-high boots in an office-appropriate way.
What should I look for when buying boots for work?
The type of boots you wear and how you style them depends on your work environment and company culture, so consider this when deciding on your style, colour, and heel height.
A pointed toe
While not a necessity, a pointed or almond toe looks sharper and more sophisticated than a rounder style. A pointed toe can also help to extend your leg length, which is especially helpful when you're wearing straight leg trousers.
A slim heel
While a chunkier heel can work well in a more casual office environment, slimmer heels tend to look dressier and are therefore better suited for formal office wear. Stick to a maximum heel height of 3 inches (7.5cm try a kitten heel for a smart style that's easy to walk in. If you prefer to avoid heels, flat boots make a good alternative ̶ just look for a pair that ticks all the boxes on this list.
A neutral colour
Black is the obvious choice for a formal work boot, complementing classic workwear ̶ however brown boots can also look smart, especially in dark brown leather. In a business-casual setting, you may even be able to get away with a coloured pair of boots, like burgundy or red.
Leather or suede
Most boots are crafted in these materials, as leather and suede are the smartest fabrics for boots to wear to work. Leather styles are more appropriate for formal environments, as they can be polished to a shine, while suede boots can be worn in places of work with a more casual dress code.
Wearing ankle boots to work
Ankle boots are versatile by nature, so they can be worn with a variety of work outfits. Pair yours with a smart midi dress, tights and a blazer or a midi skirt and cashmere jumper.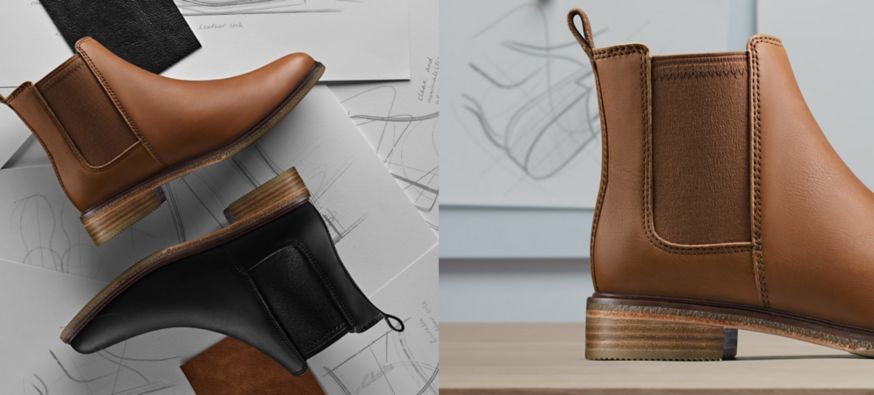 If you want to wear ankle boots with work trousers, then pay attention to how the hem of your trousers works with the top of your boots. For straight leg trousers, opt for a slightly shorter hem, so that a large portion of the boot remains on show. If you prefer slim-fit trousers, you can either leave a small gap between your boots and the trouser hem, let the hem graze the top of the boots, or if your trousers are really skinny, you can tuck them into your boots slightly.
Find more tips on how to wear ankle boots.
Wearing knee-high boots to work
Knee-high boots are more office-appropriate than you might think, so long as your environment isn't too formal. Their smart aesthetic should slot right into your work wardrobe.
Stick to black leather styles and avoid patent pairs, or boots that sit over-the-knee or higher, as these lend themselves better to your evening wardrobe. Wear knee-high boots to work with skirts and dresses that sit below the knee, or with slim-fit, tucked-in work trousers and a smart blouse and jacket.
Find out more about how to wear knee-high boots.