Your browser is out of date and will not be compatible with our website.
Please download one of the following browsers to be able to easily view our website.
The Best Boot Styles for Men
With such a huge range of styles, colours and materials to choose from, boots are a truly versatile wardrobe essential. From hiking boots to keep your feet comfortable on long walks, to suede boots perfect for those formal events, there really is a boot for every occasion.
There is such a wide variety of boots that each style deserves its own special mention. Read on to discover our ultimate men's boots guide, including what types of boots are available and how best to style them.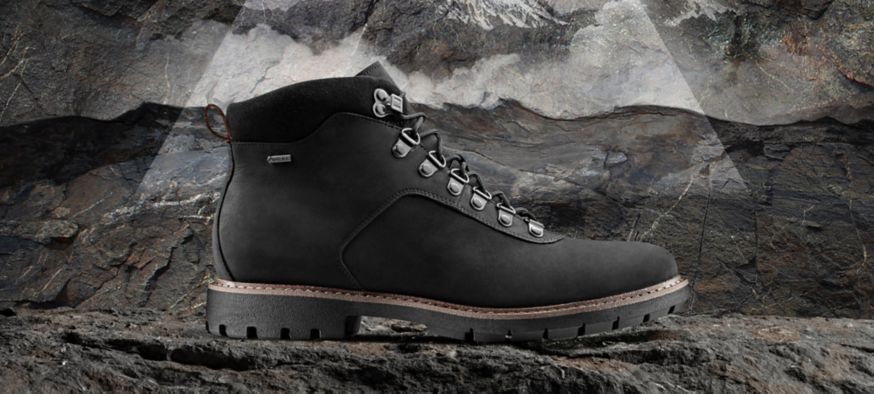 Hiker boots
Equally perfect for both challenging outdoor adventures and casual strolls through the park, hiker boots are a must-have for anyone who likes to get active. Coming in a range of styles and materials, hiker boots offer supreme support when venturing out on a hike, and also make for a comfortable alternative to trainers for day-to-day wear. Our Ashcombe Mid GORE-TEX boots are both waterproof and breathable, making them the ideal shoe to wear on the go.
Suede boots
Striking the perfect balance between smart and casual, suede boots are versatile enough to suit a variety of occasions. These adaptable boots look just as good with chinos and a smart shirt as they would with jeans and a casual tee, so you'll never be short of outfits to wear alongside your boots. Opt for a dark pair of boots to allow for a brighter and louder shirt on top, or choose a bright and bold pair of suede boots to make them the star of the show.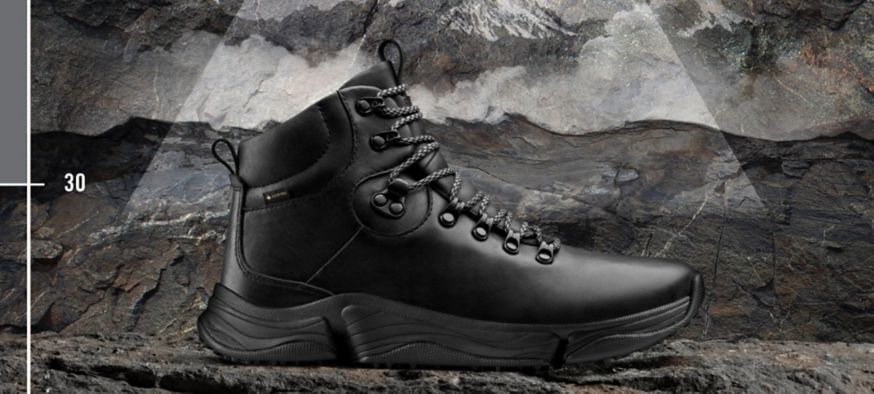 Chelsea boots
Offering endless outfit possibilities, chelsea boots are a staple item in any wardrobe. Chelsea boots are typically made from leather, with a rounded toe and a low heel, with an elastic side panel that sets them apart from other types of boots.
These classic boots benefit from being both stylish and comfortable – and just like suede boots, can be worn for just about any occasion. For a dressed down look, pair skinny jeans with a denim jacket and some brown Chelsea boots, while if you're after a more refined smart-casual look, opt for black men's boots with jeans and finish with a suave trench coat.
Desert boots
Designed in 1949 by Nathan Clark stationed with the British Army in Burma, the inspiration for the desert boot came from off-duty officers wearing rough suede boots from Cairo's bazaars and continue to be a popular wardrobe staple for many. You might have heard desert boots also being referred to as chukka boots, and this is where it might get a little confusing! Turns out that desert boots are a type of chukka boot, so that's why the names are sometimes used interchangeably.
can be worn with chinos and a shirt for the ultimate smart-casual look. They're comfortable and durable and will see you through every occasion for years to come and are also a handy staple item to add to your wardrobe as they can seamlessly be transitioned from day wear into evening wear.
How to style men's ankle boots
Men's ankle boots are the perfect pairing to any outfit—particularly in the chillier winter months when you want to keep your feet nice and toasty. For a classic and casual look, pair your ankle boots with black jeans and a flannel shirt – Chelsea boots and walking boots in particular look great with slim-fit jeans! For a more formal outfit, pair some suede desert boots with chinos and add a suede jacket to complete the look.
How to style men's chukka boots
Since they're both comfortable and dapper, chukka boots have easily earned their popular reputation. These ankle-high boots come in leather or suede, and like many other styles of boot, they work just as well with a formal outfit as they do with a more casual look.
No matter the season or occasion, a good pair of boots will see you through the years. With so many styles and materials to choose from, you're bound to find something you love in our selection of men's boots. For more style inspiration, read about the best walking boots, or discover how to wear boots with a suit.