Your browser is out of date and will not be compatible with our website.
Please download one of the following browsers to be able to easily view our website.
The Best Shoe Trends for 2022
With spring and summer fast approaching, and whilst gym memberships and the daily morning jog you'd committed to aren't always as fun as they seem, keeping on top of the latest fashion trends is a task that would never be considered so last year. So, as we settle into 2022, let's make ourselves one promise - to be the best dressed, always!
With a new year comes a wardrobe refresh. It's time to swap those outdated trend pieces of 2021 for fresh styles and timeless classics - and that naturally extends to your footwear collection! Fancy some inspiration? Keep reading to find out all about the best shoe trends of 2022.
What shoes and boots are trending in 2022?
From bright, bold colours and funky patterns to sporty styles and environmentally-conscious designs, 2022 promises to be a fabulous year for shoes.
Want your wardrobe to be the envy of all your pals? Get ahead of the style game and check out our top pick of footwear trends that we expect to see this year, with seasonal outfit ideas that look great with the hottest shoes styles.
Trending shoes and boots for women 2022
Maximalism
Forget minimalism, this season is all about maximalism. We're talking bright colours, bold prints and statement designs - it's time to go big or go home! If you're planning a night out, consider a pair of heels in a head-turning bright red, and style with a simple LBD to let the shoes do all the talking.
For a more casual look, combine black jeans and a knitted sweatshirt with a pair of trainers with a fun and bold print. The key is to let your shoes be the star of your outfit, so keeping the rest of your look simple allows the shoes to shine!
Animal print
From snakeskin heels and leopard print trainers to zebra print mules and croc skin boots, there are so many ways you can wear animal print this autumn/ winter.
As an eye-catching pattern, you might think that animal print should be paired with a neutral outfit - but in fact it's quite the opposite. Animal print works as a neutral colour itself, meaning it can be paired with just about any other tone or shade in your wardrobe - so have fun with it! For some cohesion, why not think about matching your shoes with your bag?
Athleisure
The sportswear trend has been with us for a few years now - and 2022 insists it's not going anywhere soon! Your favourite pair of trainers look just as stylish with a gym top and leggings as they would with your Saturday brunch dress, so you can feel both cute and comfy. The outfit opportunities are endless with a pair of trainers.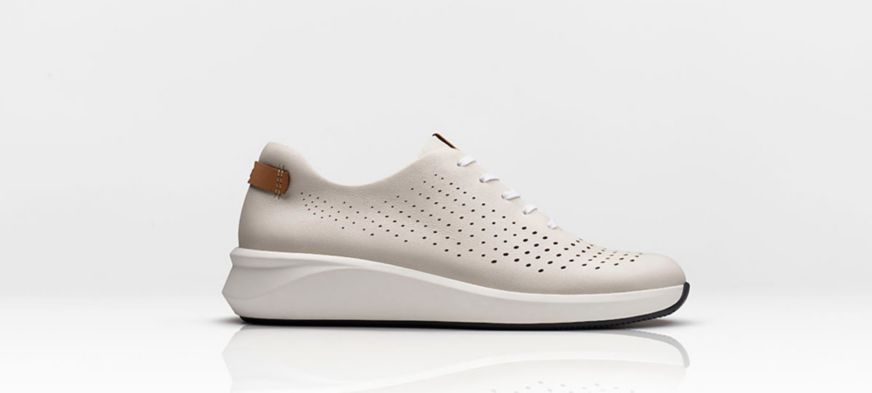 Sustainability in the fashion industry can mean lots of different things, from the way the garment is produced to the fabrics used. Here at Clarks, we offer a range of gorgeous sustainable shoes made from the highest quality materials, ranging from comfy trainers to versatile boots. Taking care of the environment has never looked so good!
Trending shoes and boots for men 2022
Athleisure
The men's Athleisure trend is also sailing smooth into 2022, with another big year expected. Pair your favourite trainers with blue baggy jeans and an oversized sweatshirt for a youthful, gen-z inspired look, or for something a little simpler in the warmer months, wear your trainers with a stylish pair of cargo shorts.
Chunky soles
From the streetwear staple of the chunky trainer to timeless thick soled boots, the chunky sole is stylish, loud, and brilliantly unapologetic. Chunky loafers and sandals are a staple summer shoe and look great with jean shorts and a simple hoodie. If you're heading to the office, why not go for some chunky Derby shoes or brogues? Finish the look with a smart shirt and a pair of chinos or fitted suit trousers.
In the winter, choose a boot with a chunky sole, such as a chunky Chelsea boot or thick-soled, lace-up combat boot. Not only will you earn style points, but your feet will stay cosy and warm. Bonus!
Suede and nubuck
Soft, comfortable and effortlessly stylish, suede and nubuck shoes are still hot on our style list this year. Generally made from cowhide, the one difference between these two materials is the finishing. While suede is left with its rougher texture, nubuck is sanded down to give it a silky smooth finish.
Both suede and nubuck look great with a range of different styles, and they're often the material of choice for boots like the desert boot or classic Chelsea style. Wear your suede or nubuck boots with black jeans and a simple tee for a casual daytime look, or why not rock your boots with a suit to turn heads during more formal occasions?
Which trainers are in style for 2022?
Chunky trainers
Where would we be without the chunky trainer? The marmite fashion trend of the year may have sparked a few debates, but if (like us) you can't get enough of a chunky sole, then you'll be happy to know that the chunky trainer trend isn't going anywhere this autumn/winter! Wear your chunky trainers with an oversized sweatshirt and leggings combo to look effortlessly cool.
Sporty trainers
The new year is a great time to focus on your gym goals, so why not treat yourself to a whole new gym wardrobe? (You know - for motivation purposes). Sporty trainers come with a thick, cushioned sole designed for intense cardio - meaning they're bonus levels of comfy whether you're working up a sweat or enjoying a gentle stroll.
Don't just limit your sporty trainers to the gym! Today's designs look fabulous with both jeans and leggings, or you could even wear them with a midi skirt for a casual office look. Practical, comfortable yet brilliantly stylish, it won't be long before sporty trainers become your favourite wardrobe staple!
Retro trainers
Trainers in retro styles made a fashion comeback at a similar time to the chunky sole, and now everyone can't get enough of them! Some of the world's most talked-about celebs are rocking the retro trainer, from supermodel Gigi Hadid to influencer and businesswoman Kylie Jenner, so there's never been a better time to embrace the retro trainer trend yourself. Wear with a button-down top and wide leg jeans for a look that's both casual and chic.
There are so many fun trends to dip your toes into in 2022, so you can look stylish no matter the season! To help you get inspired, take a look at our women's shoes, or keep your feet cosy with our men's boots and women's boots.