Your browser is out of date and will not be compatible with our website.
Please download one of the following browsers to be able to easily view our website.
What type of shoes should you wear to an interview?
Children spend upwards of seven hours a day in their school shoes. They see them through class, breaktime, lunchtime and home time, so it's important that they're comfortable, fit well and are designed to withstand everything that's thrown at them.
According to the National Association of Colleges and Employers in the US, 73% of hiring managers said a prospective employee's grooming habits had a strong influence on their opinion, and 49% said interview attire was important too.
What's more, wearing the right outfit and dressing the part will help you to feel the part, empowering you and giving you added confidence so that you can make the best impression possible.
So, what type of shoes are best for an interview?
What shoes should women wear to job interviews?
The shoes you choose should depend on the dress code of the company you're interviewing with. Before the day arrives, research the company to find out how formal their workplace is. If you're applying for a corporate job then chances are the dress code will be formal, while most other industries will have a business casual dress code. Even if the workplace is very casual, it's always better to dress up than dress down.
The best flat shoes to wear to an interview
Many women wonder whether they have to wear heels to an interview, but it's by no means essential. In fact, in many cases you'd be better off wearing flats since they're more comfortable and you'll be able to walk more naturally in them, which is especially important when you have pre-interview nerves.
Choose a pair of flats with closed toes and backs to them, as they look more professional. In summer a pair of pumps is a good option as they can look smart while still keeping your feet cool. Choose from round toe or pointed styles in a variety of materials and colours, though darker tones will go down better in an interview.
Loafers are another good flat shoe for an interview and can be worn year-round. Go for a classic penny loafer like our Hamble Loafers, or try our Pure Tone loafers for a contemporary twist on the style.
In winter there's nothing wrong with wearing boots to an interview. A classic pair of ankle boots will look smart with trousers, a dress or a skirt.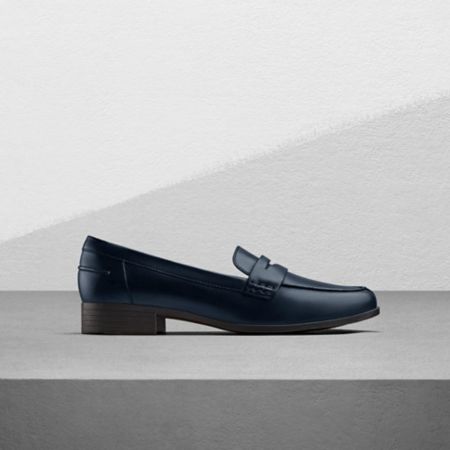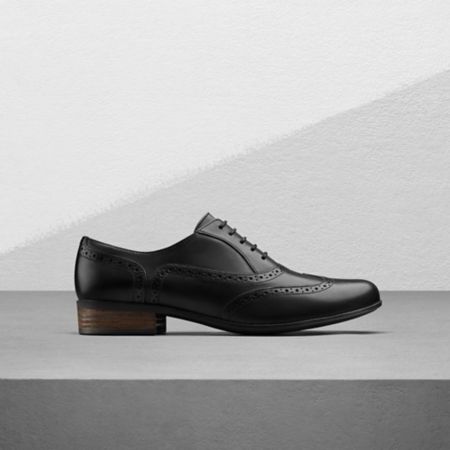 The best heels to wear to an interview
If you are confident in heels and you do choose to wear them to your interview, then a closed-toe shoe with a low or mid-height heel (around 2-3 inches) is the best choice.
Court shoes tick all the boxes. They're an excellent option for an interview as they are smart and elegant and offer a good amount of coverage. Try a pair with a simple and classic silhouette with a pointed toe, like the Laina 55 court shoes.
If you'd prefer a wider heel for extra support, try the Un Cosmo Step. They're available in a choice of three colours - go classic in black, add a subtle hint of colour with blush, or if the dress code allows for it, make a statement with snake print.

What shoes should men wear to job interviews?
For men, the best interview shoes will generally be smart, freshly polished leather shoes in black or brown. Many men question whether it's ok to wear brown shoes to an interview, partly due to the old adage of "no brown in town", and while in some corporate offices this may still be the case, brown shoes can certainly be worn to interviews where the dress code is business casual.
Lace-up shoes are simple and classic and are available with a round or square toe. Try an Oxford style like our Oliver Cap shoes in black or tan leather, or for a little extra detail go for a classic brogue like our Oliver Limit shoes.

Smart slip-on shoes can also be worn to interviews. Try a traditional penny loafer like the Un Aldric Step, or for a fresh take on the loafer try the Claude Plain, which features a moccasin construction and an almond shaped toe.
Pair your smart shoes with mid-calf length dress socks that match the colour of your trousers.
No matter what type of shoe you decide to wear, ensure they are clean and well-maintained, and make sure the colour works well with the rest of your outfit. Explore our full range of women's work shoes and men's work shoes.