Your browser is out of date and will not be compatible with our website.
Please download one of the following browsers to be able to easily view our website.
How to Wear Clarks Wallabees
Born in the 1960s, our Wallabee shoes and boots have since become truly iconic, not just in the UK but around the world. Part of the Clarks Originals collection, they have been one of our bestsellers over the past 60 years, in no small part due to their popularity amongst those in the music scene.
The West Indies, particularly Jamaica, had a love affair with Clarks in the '60s, where Desert Boots and Wallabees became associated with reggae and laid-back living. The '70s saw this passion spread to New York, where the trend quickly caught on, and throughout the 1990s hip-hop legends Wu-Tang Clan championed the Wallabee. At the same time, they became a favourite of classic British bands including Oasis and Blur. With such an impressive line-up of fans, plus a classic silhouette and incredible comfort, it's no wonder the style has become so iconic.
In this guide, we explain just what Wallabees are, with advice on how to style them and how to clean them.
What are Wallabees?
There are two styles of Wallabee, both born in the 1960s: the shoe and the boot. They are instantly recognisable, with clean and simple lines, a moccasin construction and our signature crepe sole.
The design has stayed very much the same since they were originally manufactured, but they're now available in more colourways than ever before, from classic black, tan and beige to bright red, purple and yellow.
There are both leather and suede designs, so there's plenty of variety to choose from, and while the leather styles are naturally more waterproof, our suede Wallabees come with a water-resistant treatment to provide added protection from the elements.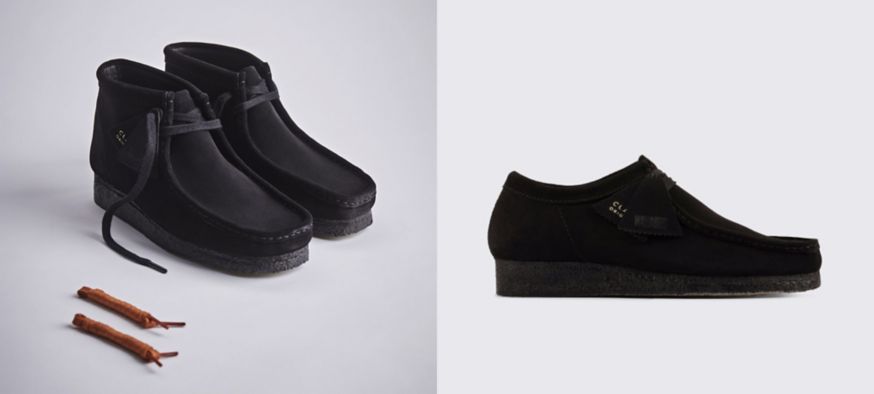 How to wear Clarks Wallabees
Wallabee shoes and boots are relaxed in nature, so they work well with all sorts of casual and smart-casual outfits. When styled correctly, they can be worn year-round.
Outfits to wear with wallabees
Wallabees with jeans
The casual feel of Wallabee shoes and boots mean they work wonderfully with denim. They're more casual that a smart shoe but more formal than a trainer, making them the ideal smart-casual footwear.
In terms of the best jeans to wear with them, look to slim-fitting styles. A tapered leg means that the boots won't get lost underneath them. If your jeans are on the long side, try rolling up the legs so that they sit just above the tops of the boots or so that a bit of ankle or sock is exposed if wearing Wallabee shoes. Complete the look with a t-shirt and bomber jacket or a shirt and overcoat.
Wallabees with chinos
Both chinos and Wallabees are associated with smart-casual dressing, so together they're a match made in heaven. Wear them with a check shirt and add a blazer if the occasion calls for it.
Wallabees with shorts
Wallabees are a good alternative to trainers or espadrilles in the summer when you want to dress up your summer look. They go with just about any style of short, particularly chino or linen shorts that already err on the side of smart casual.
What socks to wear with Wallabees
There are a few options when it comes to the socks you could wear with your Wallabees. In summer you can choose to wear no-show socks, so that your ankles are exposed, while in winter you'll want to wear longer socks to keep your ankles warm. Opt for a pair of socks in a similar hue to your shoes or boots for a consistent, put-together look.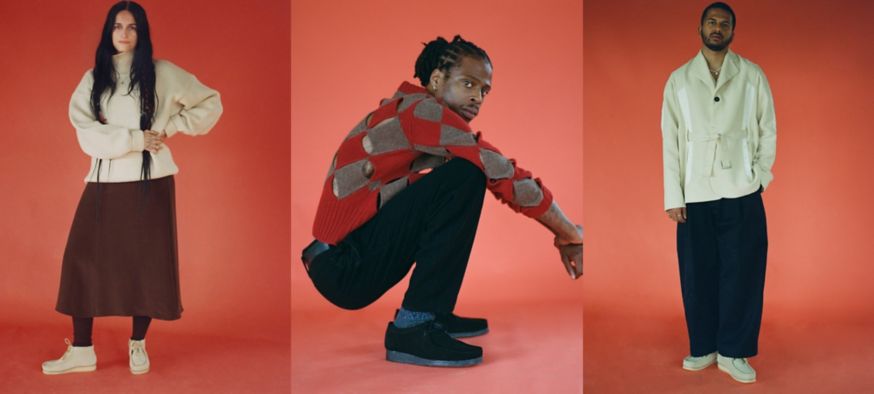 How to clean your Wallabees
To clean leather Wallabies, use a soft bristle brush and specialist leather cleaner, or for suede styles, rub them with a damp, lint-free cloth or a specialist suede brush. For a full guide to cleaning suede, read our article on caring for suede shoes.
To clean the soles of your Wallabees, start by removing any mud or dirt with a clean and dry cloth. You may wish to do this outside or over the sink to avoid too much mess. Once the worst of the debris has been removed, dip a clean cloth in a solution of water and washing-up liquid and wring it out so that there's not too much moisture. Being careful not to get any of the solution on the suede or leather, rub the sole to loosen any remaining dirt, washing out your cloth frequently and repeating until the soles of your Wallabees are completely clean. Let the soles air dry.
Now that you know everything there is to know about this iconic style, explore the full collection of Clarks Wallabees or find out more about another one of our classic styles: the Desert Boot, with top tips on how to wear them to all manner of occasions.