Your browser is out of date and will not be compatible with our website.
Please download one of the following browsers to be able to easily view our website.
Your Guide to Stylish Flat Shoes
Comfortable, practical, yet still incredibly stylish – everyone should have at least one pair of flats in their wardrobe. Flat-soled and without a noticeable heel, these shoes are a wardrobe staple that crop up on both the streets and the catwalk – so if you don't own a pair, now's a great time to invest!
Wondering how you can make flat shoes stylish? Our ultimate guide to flat shoes will tell you all you need to know about this shoe silhouette, including the various types to choose from and what's best to pair each with.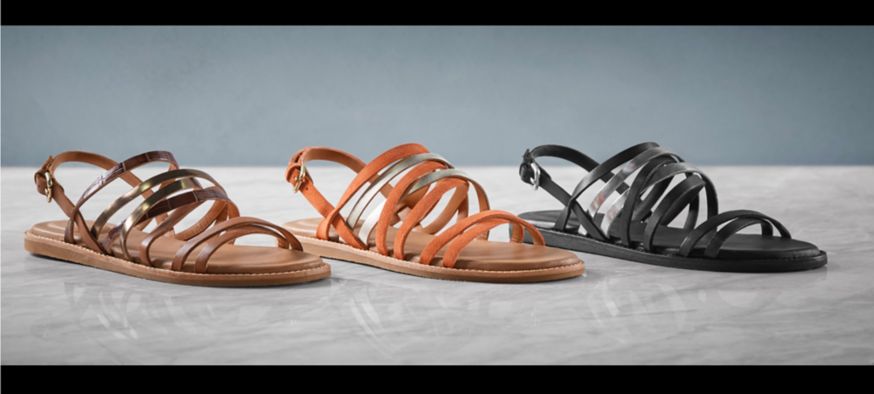 Are flats out of style?
Since flats are reinvented season after season, the legacy of flat shoes lives on. In fact, if the catwalks of this year have told us anything about current shoe trends, it's that flats are as popular as ever!
It's their sheer versatility that keeps us coming back for more; wear them with skirts, jeans and dresses, take them out for an afternoon dog walk or on a romantic dinner date…the list goes on.
Different types of women's flat shoes
When you hear 'flats' you may think of the classic, ballet pump style – but there are plenty more flat shoe styles to dip your toes into. From loafers and mules to trainers and sandals, you can find so many gorgeous designs and shapes out there.
Dressy flat shoes
Planning a big night out? You don't need to don heels to look glamorous! There are plenty of stylish flat shoes available that will elevate your look and make you feel your best.
Since they're pretty and feminine, ballet pumps are the perfect flat shoes for a night out with friends or your partner. Choose a pair in silver or gold to really stand out and find a style with delicate straps for a little extra support while you're out and about.
Totally on-trend and adding a touch of sophistication, mules are also a great choice for dressier occasions. Choose mules in sleek black or brown leather and pair with a smart pencil skirt and blouse for a day at the office, or dress them up with a floaty midi dress and suede jacket to make a chic evening outfit.
Comfy flat shoes
If you're big on comfort, then flats are your best friend! There are many style options that allow you to comfortably wear flats, with trainers being the stand-out choice. Flat trainers make the perfect addition to any outfit, from a casual dress to a simple leggings and sweatshirt combo. Stick to classic white leather if you're looking for a shoe that goes with everything, or go bold with animal print if you want to make more of an impression.
Flat sandals and loafers are also incredibly comfortable and can be dressed up or down depending on the occasion. Loafers look amazing with formal workwear and are a comfortable alternative to heels, while sandals are a gorgeous summer staple that never fail to look great with a floaty summer dress.
Flat shoes outfit inspiration
Since they're super versatile, there's not much that flat shoes won't look amazing with. Looking for some inspiration? We've got you covered!
How to wear flat shoes with a dress
Pretty much every style of flat shoe works with a dress, from loafers and trainers to ballet pumps and sandals – it all depends on the type of look you're going for.
If you want your outfit to look fabulously feminine, choose a dainty pair of ballet pumps or some strappy sandals and team them with a flowing maxi dress. Trainers suit a sportier or more tailored outfit, such as a skater or bodycon dress, while loafers and mules look great with a classic black slip dress – perfect for the office.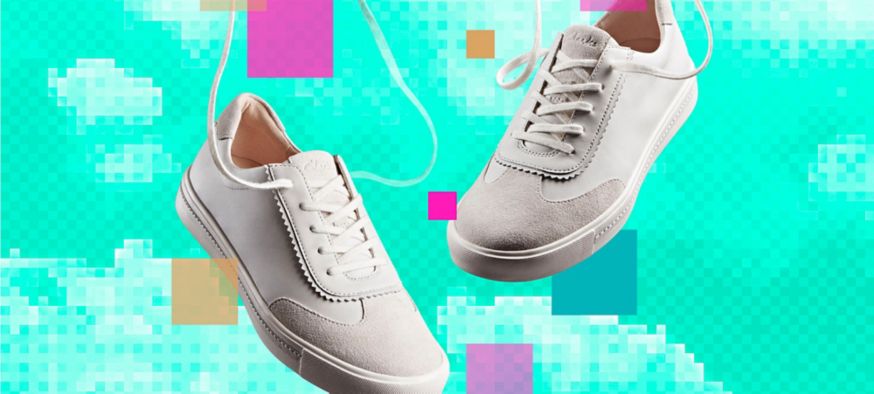 How to wear flat shoes with jeans
You can absolutely wear jeans with flats – the trick is to choose the right style. Skinny and straight leg jeans tend to look best with flats, as their slim silhouette and ankle length won't cover up your shoes. Like flats, skinny and straight jeans are also wardrobe staples, so chances are you already have this classic combo in your collection!
For a smart-casual look, combine black skinny jeans with patent ballet flats and a slim-fit blazer. Loafers and mules also work well with this outfit. If you're wearing a chunkier pair of flats, such as strappy sandals, simply roll up the hem of your jeans to let the shoes do all the talking.
How to wear flat shoes to a wedding
When we think about wedding shoes, our minds often jump to heels – but there's absolutely nothing stopping you from wearing flats to a wedding. Whether you're the bride, part of the bridal party or are attending as a guest, there are plenty of flat shoe styles that work well for a wedding.
Pay attention to the wedding location and how long the celebrations will last to give you an idea of how long you'll be on your feet. We'd also recommend wearing your shoes around the house for a couple of weeks in advance to comfortably break them in.
Is it OK to wear flats without socks?
Some flats – like ballet flats or sandals, will showcase your socks pretty clearly, so if you want to go barefoot, we say go for it! However, if the thought of wearing no socks with your shoes fills you with dread, why not try low-cut or hidden-liner socks that won't show inside your flats? And since the world is now embracing the socks and sandals trend, it's no issue if they show anyway.
From mules to ballet pumps, there are so many types of flat shoes to tickle your fancy. Feeling inspired? Take a look at our full collection of women's flat shoes to find the perfect pair.