Your browser is out of date and will not be compatible with our website.
Please download one of the following browsers to be able to easily view our website.
A Guide to Summer Sandals
Summer is just around the corner, which means it's time to get your summer wardrobe sorted. While your trainers and boots can still be worn year-round, no warm-weather wardrobe is complete without a pair of summer sandals. Whether your summer plans consist of walks along the beach, countryside strolls or barbecues in the garden, sandals are the perfect summer companion for any occasion.
What are the best shoes for summer?
Comfort is key during hot weather, and sandals ensure that your feet can breathe as the temperature increases. Material should always be considered when choosing a pair of sandals, as you want to ensure your sandals wick away sweat and keep your feet as dry as possible. From flat sandals to wedges and from walking sandals to sports sandals, at Clarks we have a summer shoe for everyone.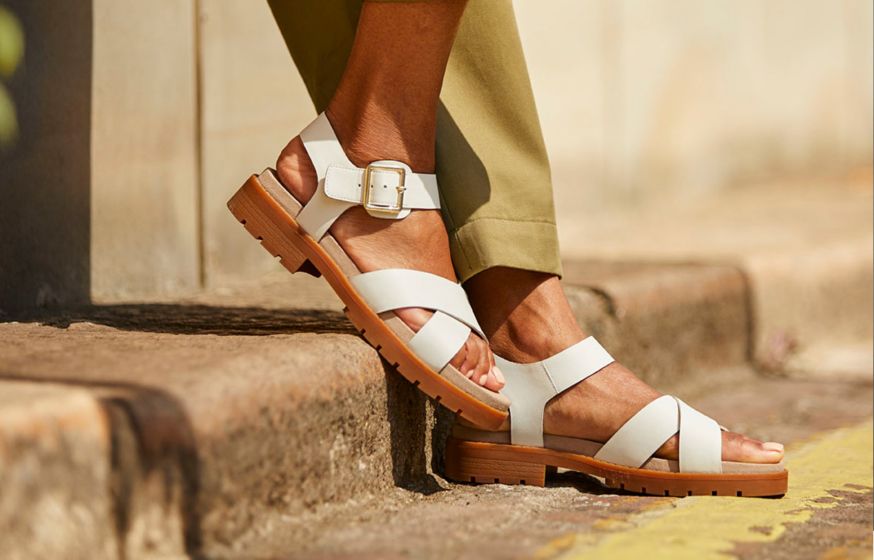 Best Flat Sandals for Women
For everyday wear, you can't go wrong with a pair of flat sandals. From subtle strappy styles that go with everything to statement pairs in animal print and pastel hues to liven up your summer outfit, we have comfortable sandals to suit every style and taste.
Our Pure Cross sandals are simple yet stylish and are crafted from soft leather that moulds to your feet with wear. They look great with jeans and are available in sage, tan and white.
For extra coverage, our Blake Jewel sandals are gladiator-style sandals featuring multiple leather straps and a durable sole. Like several of our sandals, these are part of our Ortholite range and have been designed with performance insoles for ultimate comfort.
If you're relaxing in the garden or lounging by the pool, our range of women's sliders are just perfect. Take a look at our Lunan Slides, which feature a soft suede upper with a foam-padded base for style and comfort in every step.
Best Walking Sandals for Women
There's nothing like getting out and about on a warm summer's day, whether that's rambling through fields or setting off on an urban trek. Whatever the terrain, it's essential to wear the right shoe for proper support and to allow your feet to breathe.
Our Tri Walk sandals have been designed to ensure comfort and flexibility, with three rip-tape fastenings for a secure and adjustable fit.
For less intensive walks, our Orinoco Strap sandals are stylish but supportive and are available in a choice of six colours, including pastel pink and leopard print if you don't want to compromise on style while you hike.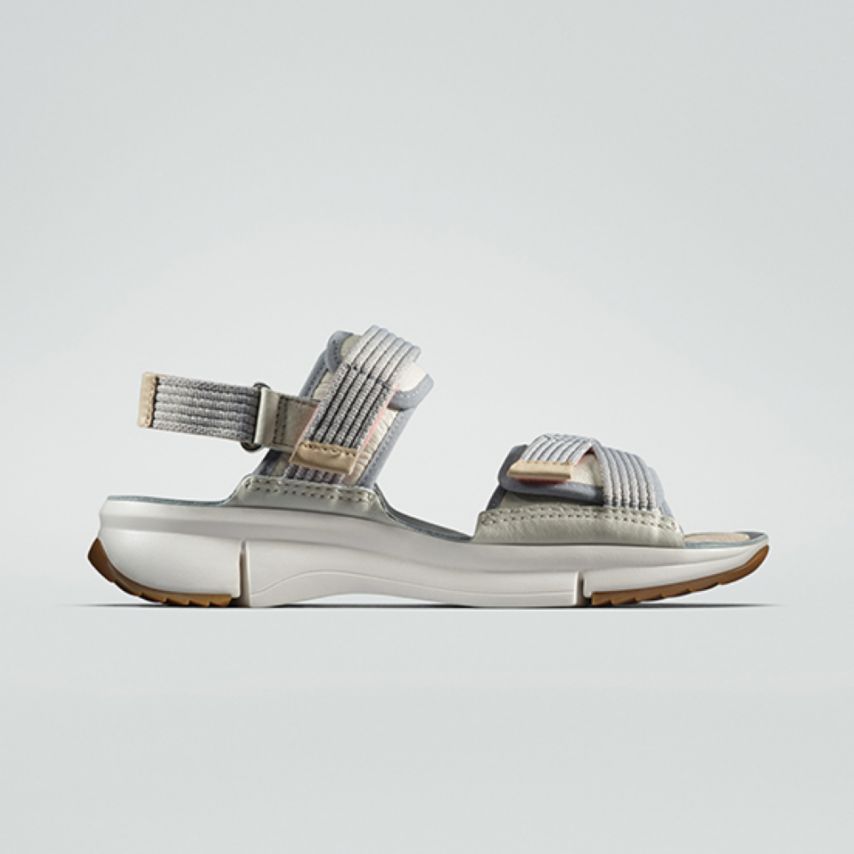 Best Women's Sports Sandals
If you're on your feet a lot, enjoy heading out and about, or you just like the athleisure aesthetic, consider a pair of sports sandals.
Our Trigenic collection optimises your foot's natural movement, so you'll find your sandals become a natural extension of your feet. Try out our Tri Sporty sandals, with added grip and breathable linings for comfort and freshness day in day out. Choose from black, white or tan leather depending on the look you're going for.

Best Wedge Sandals
Nothing says "summer" quite like a pair of wedge sandals. They're the ideal summer shoe as they're one of the comfiest heels, they're supportive, and their cut-out design allows your feet to breathe. Our collection of wedge sandals features styles in a range of materials, designs and colours, so you can choose the ideal summer wedge sandal for you.
Our Maritsa Lara slingback wedges are a dressy and comfortable option for day or night. They're available in five different shades, but opt for fuchsia or amber to add a bold pop of colour to any summer outfit.
If you're looking for a bit more height from your sandals, our Maritsa 95 Glad wedges could be just what you're looking for. Available in black, tan or sage, these smart sandals will add a touch of sophistication to your eveningwear.
For a flatter wedge to wear in the daytime, the Sense Strap wedge is a failsafe option for a tiny bit of added height but with plenty of cushioning.

Best Heeled Sandals
If you're looking for summer sandals with heels, wedges are a great option, but they're not the only choice. Our collection of heeled sandals covers everything from statement stilettos to modern block heels.
For that wow factor in the evenings, our elegant Amali Jewel heels are sure to turn heads, with a slim ankle strap and a dainty buckle fastening.
For something with a little more support, a chunkier heel such as our Sheer 55 Buckle sandal is a great option. These cushioned heels are adorned with studs and a chunky buckle fastening, which will add edge to any outfit.
Ready to find your next pair of summer shoes? Explore our full range of women's summer sandals and find your perfect sunny season companion.