Your browser is out of date and will not be compatible with our website.
Please download one of the following browsers to be able to easily view our website.
What Shoes to Wear with Different Outfits
The trick to staying stylish? Pay just as much attention to your shoes as you do your clothes! While some outfit choices are straightforward – jeans and trainers are always going to be a winning combo – with trends coming and going it's easy feel a little flustered.
Ever caught yourself staring into the mirror, trying to figure out if your shoes match your outfit? We've all been there. Often, the more daring and out-of-your-comfort-zone an outfit is (which we totally encourage) the more difficult it can be to tell if everything really goes together or not.
Luckily, you're in the right place for some tips! Our handy guide covers pretty much every shoe and outfit combo, from trainers and dresses to boots and culottes – so you can leave the fashion faux pas worries behind.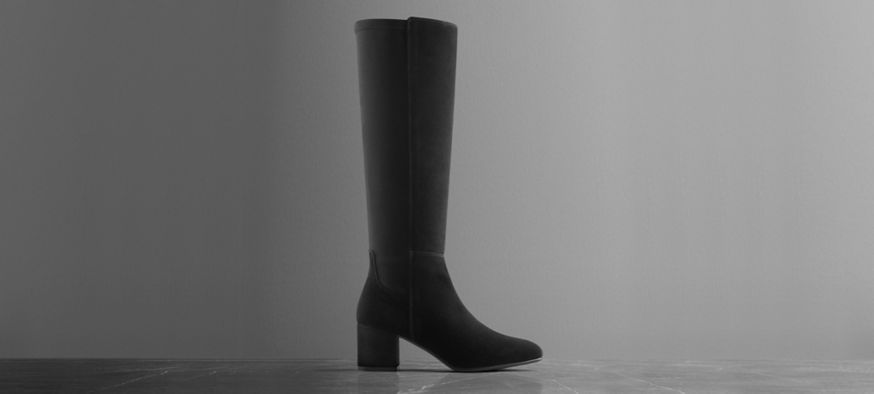 What shoes to wear with a jumpsuit
Ready to rock the jumpsuit trend? For casual jumpsuits, we recommend pairing with trainers for a streetwear vibe that's always on point. In chillier or wet weather, ankle boots are a cool complement to your jumpsuit – or, in summer, team your relaxed jumpsuit with sandals for a laid-back beachy look.
If you're heading out in a smarter jumpsuit, a cute pair of high heels is always a winner. Super-high heels are a true show-stopper, but mid-height heels work well too. Depending on the style of the jumpsuit and the occasion, try classic heeled pumps, strappy heels, or a comfortable wedge sandal for those balmy summer days.
What shoes to wear with skinny jeans
When it comes to shoes for skinny jeans, there are so many footwear options to explore! Thanks to their streamlined silhouette, skinny jeans work well with sleek, equally streamlined shoes – think feminine ballet pumps or cute sandals.
For daytime wear, you have a huge choice of flats – from trainers and sandals to loafers and ballet pumps. The best trainers to wear with jeans tend to be classic white leather pairs, since they're guaranteed to go with everything. Transition your look into evening glam with strappy heeled sandals or kitten heels.
For winter styling, ankle boots are always a hit with skinny jeans. To fully nail the look, either tuck your jeans into them or wear a pair that come to just above the top of your ankle boots. If you really want to step up the style stakes, slip into some knee-high boots for that guaranteed glamorous edge.
What shoes to wear with culottes
Comfortable and stylish, culottes are the perfect trouser option for anyone who's not such a jeans lover– there's really nothing quite like the feeling of your legs being able to breathe! What's more, they work brilliantly with lots of shoe styles, from casual trainers to chic heels.
If flats are your preferred footwear choice, then team your culottes with your favourite chunky trainers for a casual look, or switch to loafers for those smarter occasions. In winter, you can't go wrong with a classic pair of suede ankle boots.
To add some length to your legs, try a pair of heeled pumps for work, or choose slingbacks for a special occasion. Heeled knee-high boots under your culottes create a chic (and more importantly, warm!) winter look, too.
What colour shoes to wear with a red dress
Deciding which shoes to wear with which dress can be a tough choice when you have so many options! And since red is such a bold and eye-catching shade, getting the colour combo right is a must.
The classic pairing with a red dress is black shoes, but your options don't end there. Try white shoes for a retro-inspired look or go uber glam in silver or gold. You could also wear red shoes in the same shade as your dress for a timeless coordinating look, or a neutral-hued shoe to keep all eyes on your show-stopping dress. The choice is yours!
What shoes to wear with wide-leg trousers
Get the most out of your wide-leg trousers by pairing them with a shoe that works with their flowing shape. Something that adds height is a guaranteed style success. Heels are an obvious choice, especially pairs with a sleek pointed toe that will peek out from under the wide-leg silhouette.
A statement pair of heeled boots will have the same effect. Inject some extra fun into your look with a patterned pair, or opt for a style in a contrasting colour to your trousers.
If flat shoes are your fave, chunky trainers or platform pumps are a great way to keep things casual while still adding a bit of height.
What shoes to wear with a midi dress
Looking for a dress with a bit more coverage? Midi dresses are your answer! There are loads of shoe styles that go with this type of dress, so don't be afraid to get creative.
Midi dress and boots
For a killer look that always feels on point, style your midi dress with ankle boots in either leather or suede. Chelsea boots, desert boots and even biker boots all work perfectly with a midi dress. Top tip: stick with black, brown and neutral shades if your dress is colourful or pattern-heavy.
Midi dress and trainers
Midi dresses and skirts are often pretty and feminine in style, so you can choose to emphasise that or contrast it. Up for creating a contrast? Then add an edge to your outfit by teaming your midi with some statement chunky trainers. Finish with a floaty blouse and accessorise with a cute cross-body bag.
The right shoe choice will take your outfit to the next level, so don't be afraid to get experimental! Explore our full collection of women's shoes and find the perfect pair to complete your outfit.