Your browser is out of date and will not be compatible with our website.
Please download one of the following browsers to be able to easily view our website.
The best white shoes and how to wear them
Are white shoes in style?
Absolutely. From chunky white trainers to classic white sliders, this renaissance has been on the rise for years. With an 130% increase in people searching online for white shoes and how to wear them in the past four years, it's a trend that leaves you free to mix and match outfits without any shoe-clashing concerns.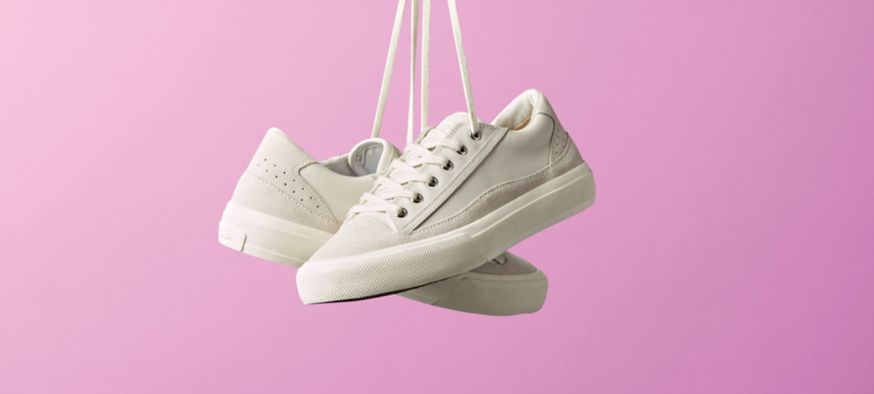 When to wear white shoes
We firmly believe white shoes can be worn all year round – but if you're all about low-maintenance looks, then you might decide to wear them in the spring/summer months when it's much easier to keep them looking crisp.
From trainers and canvas shoes to sandals and heels, there are so many different styles of white shoes – and their versatility means you can wear them anywhere, whatever you're up to. Afternoons walking the dog? Tick. Dress-up date night? Tick.
White leather shoes
From trainers and brogues to sandals and loafers, there's no shortage of white leather shoes on the high street. Smart by nature, choosing a shoe in leather is a great way to ease into the white shoe trend.
For a smart office look, pair our Pure 2 Loafer with a white blouse and simple black trousers, or for a more smart-casual dress code, opt for the Kimmei Cross wedge heels with a mid-length skirt.
White canvas shoes
For those on-the-go days, we suggest opting for classic white canvas shoes. Sturdy and flexible, the canvas material is designed to let your feet move and breathe easily, and with grippy rubber outer soles, they're great for any activity.
Our Aceley Lace in white is the ideal summer trainer – working perfectly when paired with casual denim shorts for a picnic in the park, or dressed up for an evening occasion.
White trainers
The trusty chunky white trainer has become a staple in all walks of life – and it's no wonder.Not only are they super comfortable, but you can wear white trainers with pretty much any outfit. And thanks to the rise of athleisure, they're definitely an on-trend choice.
Perfect with jeans, midi skirts, trousers and dresses, treat them well and white trainers will be your best friend. Knowing how to keep them looking sparkly white is key!
The beautiful simplicity of Hero Lite Lace is hard to beat. Soft white leather and a matching rubber sole give amazing flexibility as well as durability. Pair with blue mom jeans for a laidback summer look or with a floral midi dress for that summer garden party or BBQ.
White sandals
When it comes to summertime, nothing sets your feet free like white sandals. Perfect for the sunniest of days, white sandals are a wardrobe staple.
Simple cushioned white sandals like our Tri Alexia are not only on trend, but go with virtually anything, while a pair of white heeled sandals elevates any outfit for that perfect summer night look. If you like to wear heels in the daytime, then white wedge sandals are a go-to style, offering a little extra coverage and support as you go about your day.

White sliders
For a contemporary take on the white sandal, slip into white sliders. Wear them to the beach, in the garden or out and about for effortless summer style.
Our Orianna Sun sandals channel an athleisure-inspired aesthetic with plenty of support to keep your feet comfortable all day long, and feature a chunky rubber sole for extra grip and durability. Wear to the pool or at a sunny picnic with friends for an effortless, summery look.
From casual women's trainers to smart leather brogues, white shoes can be dressed up or down to perfectly complement any outfit, and make a great summer wardrobe staple. Explore our range of white shoes to discover the best pair for you.