Your browser is out of date and will not be compatible with our website.
Please download one of the following browsers to be able to easily view our website.
A Guide to Winter Boots for Kids and Babies
Through the eyes of your little ones, winter is the most exciting season filled with magical festive activities, fun snowball fights and winter walks through the park. Seeing those first few snowflakes fall is all part of the magic, but while it's undoubtedly an exciting time, winter can be very chilly for little hands and feet!
Tiny humans are more susceptible to the cold since their bodies lose heat more rapidly, so it pays to be prepared with lots of layers, a couple of blankets, and most importantly, a good pair of cosy shoes! Kids' winter shoes should be warm, waterproof, and fit properly - and since the ankles can also get a little chilly, winter boots are a great choice. Read on for our guide to winter boots for kids and babies, including how to dress your little ones this winter to keep them nice and snug.
How to dress kids & babies for winter
Be mindful of layers
You might think of them as just miniature humans, but kids need a little more help than adults to stay warm. As a general rule of thumb, the American Academy of Pediatrics suggests that babies and children need one more layer of clothing than what mum or dad (or any other adult) would wear in the same weather conditions. So, unless you're one of those people who doesn't feel the cold and could quite happily wear shorts out in freezing temps, then this rule is a pretty handy one to stick to.
If you're planning on whisking the kids off on a fun outdoor winter activity, then make sure they have a snug base layer, an insulating middle layer and a protective and waterproof outer layer to keep them nice and cosy. Air pockets form in between the layers helping to trap heat, and the great thing about layers is that they can easily be removed before a car journey or a quick café stop.
Keep hands and feet toasty
There's absolutely nothing worse than cold hands and feet, and as the icy weather arrives, we want to make sure our little ones don't end up with a nasty case of frostbite! A pair of cosy socks and gloves will do the job perfectly, and if you can sense a snowball fight or two is oncoming, then you'll probably want to invest in some waterproof gloves, since no one is a fan of freezing, soggy hands!
Thick socks are going to be pretty useless with the wrong pair of shoes, especially if it's an old pair that lets water in. Shudder! Make sure your little angel's shoes are both cosy and waterproof, particularly if you're going to be trudging through snow. Warm girls' boots and warm boys' boots are a great option, since they provide more protection than a normal shoe to help keep toes extra toasty.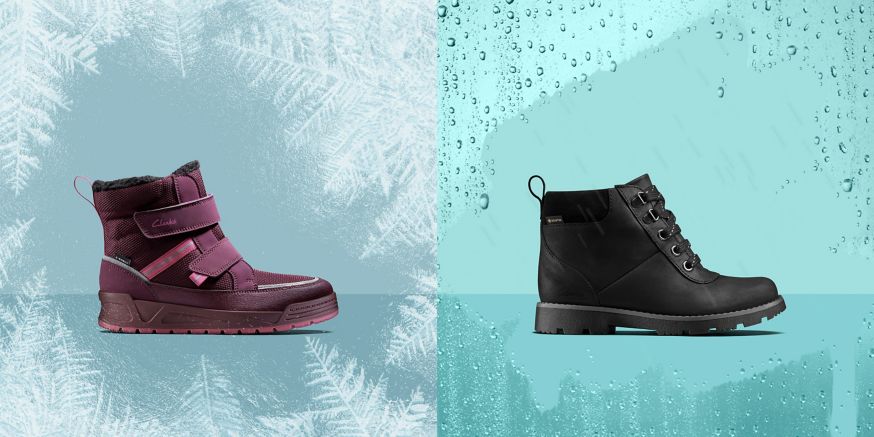 The best winter boots for kids
Snow boots
They'll be running at the first sign of snow -- so before the fun begins, make sure they have a comfortable pair of snow boots to step into! Not only are the best snow boots for kids waterproof and cosy, but they should also have good grips to stop any slips or falls. Our kids' snow boots are super practical and come in a range of adorable styles and colours.
Warm boots
Easily one of the most essential things to invest in over the chillier months is a good ol' pair of warm boots. With their soft fleece or thermal lining and snuggly fit, your kids will never want to take them off! And as a bonus, you won't have to worry about them getting frostbite. It's a win-win situation!
Recycled boots
We all want to do our bit for the environment, and a pair of recycled boots for kids can help you do just that! Our recycled winter boots are made from recycled materials and come in a range of cute styles, from mini Chelsea boots to adorable hi-tops.

The best winter boots for babies & toddlers
Time flies, and before you know it your mini-me will be at the age where they need their first pair of shoes! Whether they can't quite walk yet or are just beginning to take their first wobbly steps, even the tiniest of toes could do with a bit of added protection from the cold during the winter. Look for boots that are comfortable, grippy and fit well. They should fit snugly over a pair of thick winter socks without being too tight! Make the most of our in-store fitting service to find your little one's perfect fit and style.
Wrapping up warm is the key to having fun this winter, and with our range of kids' boots, you won't struggle to keep your little one's feet protected! For more tips and advice relating to little feet, check out everything you need to know about buying children's school shoes, or discover our guide to buying kids' wellies.