Your browser is out of date and will not be compatible with our website.
Please download one of the following browsers to be able to easily view our website.
How to wear trainers to work (and still feel professional)
Once a firm no-no in office attire, trainers have gradually begun to be incorporated into work wardrobes. Effortlessly chic when styled correctly, smart trainers can give your work wardrobe a new lease of life. While it can be a daunting transition to make, taking trainers from casual to formalwear is far easier than you'd think.
So, read on to discover exactly how to wear trainers and make them work for you in a professional environment.
What trainer colours and styles can I wear to work?
If you're dipping your toes into the world of work trainers, start by discovering what styles and shades complement your daily attire. While vibrant sportier varieties belong in the gym, look to neutral hues like creams, pastels, navy, white and black for work trainers.
Chunkier block-soled trainers are excellent for letting your creative side shine through in the workplace, but for a delicate and sophisticated silhouette, choose narrower styles with a more pointed toe. When it comes to materials, leather and suede are your best bet, as they're structured and sturdy.
How to style trainers for work
Whether you're wearing an oversized blazer with tailored trousers, or a statement floral dress, crisp, white trainers are an easy way to give your work wardrobe a contemporary makeover. Pairing structured clothing with a laid-back accessory like trainers creates a fresh and on-trend look.
For a timeless aesthetic, try teaming tapered trousers with a black tucked-in jumper and our classic Hero Lite Lace white trainers. Make your ensemble that much smarter by layering with a blazer, or add a subtle edge with a leather jacket. White trainers can be worn with more outfit combinations than you might realise - find more tips on how to choose and style white shoes.


If you're looking to make more of a style statement, try playing with prints. Start with an all-neutral outfit, such as a white blouse tucked into cream paper bag-waisted trousers, and team with our stylish Un Maui Lace Natural Snake print smart trainers for a truly memorable look For more inspiration, explore our guide on shoes to wear to job interviews or other professional occasions like presentations.
When wearing trousers, ensure the hem sits at the ankle to make your trainers stand out - if you're wearing a skirt or dress, midi styles work particularly well, too.
Trainers to wear with jeans
Given the relaxation of office dress codes over the years, jeans have found their place in the professional world. Now it's time to add some sleek trainers into the mix.
For laid-back workspaces, start simple with a boxy T-shirt paired with mom jeans, and white trainers with a pop of colour or flash of metallic on them - we'd recommend the Hero Walk White Combi to complete your outfit.
If jeans and a T-shirt are a little too relaxed for your office dress code, try a roll neck jumper in a fun hue, with black slim-fit jeans, a blazer and some smart trainers in black like the Hero Walk Black Combination. In warmer seasons, you can switch the roll neck jumper for a fitted tank top or a tucked-in plain tee and add our slip-on Un Maui Step white trainers.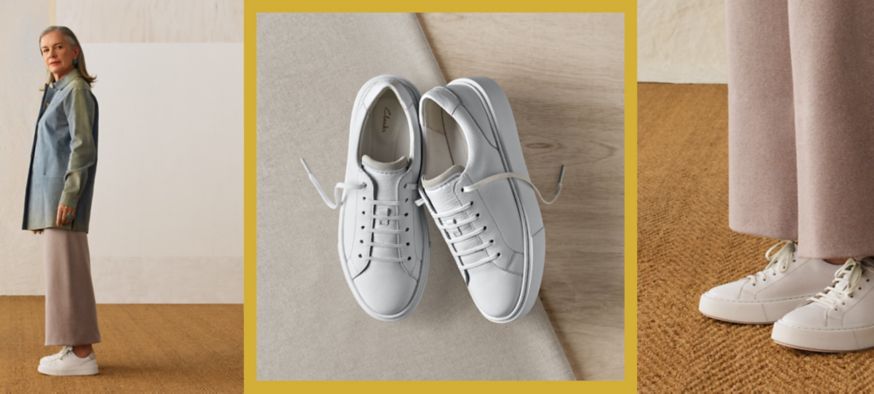 Trainers to wear with dresses
Printed dresses and trainers are a match made in heaven for office wear, as busy patterns are perfected by the simplicity of the shoes. Whether you opt for a fitted or floaty number, go as bright and bold as you choose up-top, then complete your outfit with neutral, smart trainers such as our CraftRun Lace White Suede.
If your office dress code is relaxed, don't be afraid to have a little fun with colour. Our Hero Air Lace in red will give a subtle but vibrant splash of warmth to a monochrome outfit that's in need of a spruce up.
Smart trainers for women
At Clarks, there's plenty of choice when it comes to smart trainers to wear to work. Give your heels some time off and feel just as fabulous in flats, whether you choose a white lace-up pair or a chic style with a dash of metallic to dazzle your colleagues. Discover our full collection of women's trainers and find more outfit and shoe pairing inspiration.