Your browser is out of date and will not be compatible with our website.
Please download one of the following browsers to be able to easily view our website.
Gift Card
Clarks Gift Cards - The perfect present for any occasion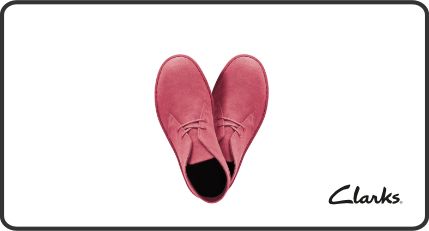 Our Gift Cards can be used in any Clarks store in the UK & the Republic of Ireland. At present, our cards cannot be used on our websites or in any partner stores.
The maximum value that can be added to a gift card is €500. The minimum amount is €5.
To purchase a gift card / eGift or to complete a balance enquiry, you will be taken to our gift card website. A dedicated fulfilment house will be responsible for delivery of all gift card orders placed online.
Gift Card FAQs
Gift Card Terms & Conditions
Clarks for Business