Your browser is out of date and will not be compatible with our website.
Please download one of the following browsers to be able to easily view our website.
Clarks Shoe Care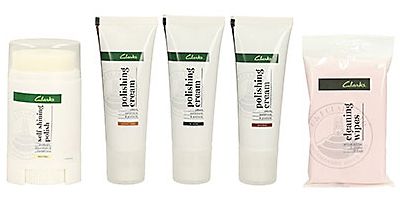 We want your shoes to be at their best - whether you wear them all-day, everyday, or save them just for special occasions. From polishers and protectors, our range of shoe care products will ensure that your chosen style will not only look great, but feel great too. For the full range of Clarks shoe care products find your nearest Clarks Store.
Scroll down to learn more about our shoe care products:
A list of product ingredients is available on request.
Cleaners
Active Foam Cleaner
Specially formulated to remove ingrained grime and dirt to enhance the appearance of all suede, fabric and synthetic shoes and accessories.
Moisture Balm Cream
Cleans, nourishes and conditions fine leather footwear and accessories of all colours.
Restorers
Shumagic
In an array of seasonal shades, our Shumagic helps to restore colour and disguise scuffs and scrapes. The specially designed tube allows for precise application where required. For use on leather shoes only.
Matt Leather Restorer
Cleans, nourishes and softens all matt finished footwear, specifically waxed and oily leathers.
Patent Leather Restorer
Repairs scuffs and scratches on patent shoes. Available in black.
Polishers & Protectors
Polishing Cream
Cleans, conditions and protects all leather, including smooth, grained and delicate finishes. Resists rain and stains and buffs to a brilliant lustre. Available in black, brown and light tan.
Quick Shine Sponge
Provides an instant shine to all finished leather and synthetic shoes. Available in neutral only.
Protector
Invisibly protects all colours of leather, suede, nubuck and canvas. Resists water penetration and guards against stains.
Accessories
Leather Insoles
Premium shoe liners that aid fitting, our leather insoles provide natural cushioning and absorb impact reducing foot fatigue. With activated charcoal these insoles help prevent foot odour and promote foot hygiene.
Foam Insoles
Ideal as a fitting aid, Clarks foam insoles offer natural cushioning and a perfect fit. Scented deodorant provides long lasting freshness and silver ion anti-bacterial technology helps combat foot odour. Available in men's, women's and kids sizes.
Laces
A selection of laces in black and brown in lengths from 75cm to 120cm.
Heel Grips
Padded suede patches to place inside shoes to improve heel fit. Ideal for those with narrow ankles.
Long Shoe Horn
A moulded metal tool to help ease shoes on to feet without damaging the heel centre. This long version is ideal for boots.
Short Shoe Horn
Shorter version of our moulded metal shoe horn, for easing feet into footwear without damaging the shoe.
Leather Stretcher
Our leather stretcher gently softens and stretches leather, suede or canvas shoes at the typical pressure points - ideal for new shoes or in hot weather when feet expand.