Your browser is out of date and will not be compatible with our website.
Please download one of the following browsers to be able to easily view our website.
Styles & Stories
Combining inspiration from our past with a passion for the future, our aim is to create footwear that is both covetable and comfortable. Find out more about what sets us apart, from collaborations and collections through to the unique technologies we've created to ensure our designs feel as good as they look.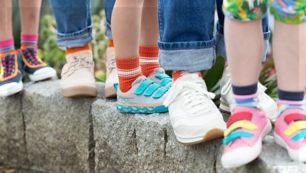 Womens
In My Shoes with Jennifer Bolton - Frugi
Crafted with a little extra love for the planet kids play on, sustainable children's clothing brand Frugi's nature-inspired prints and organic materials are a celebration of the earth we call home. So, we were super excited to partner with the Frugi team on a conscious spring/summer kids' shoe collection, bringing Frugi's signature style to life on earth-friendly footwear that sparks joy and assures Clarks' expertise in every step.