Your browser is out of date and will not be compatible with our website.
Please download one of the following browsers to be able to easily view our website.

In My Shoes

With

Abraham Adeyemi

Persevering through instability and homelessness to chase his dreams a decade ago, South London writer-director Abraham Adeyemi knows all about seeing the world through different points of view - and this open-minded perspective is one of the biggest influences on his fresh filmmaking and approach to fashion.

For our latest In My Shoes feature, we chatted to Abraham about his love of learning what makes people tick -and how, from his always-comfortable shoot day style to shaping characters' worlds in his directorial debut 'No More Wings', fashion is fundamental to identity.
Tell us about yourself… what makes you tick?
Do you mean my writing? Well, I love my parents to bits but I've spent a lot of my life questioning their actions. Typically, when you love someone, you don't tend to condemn them - instead, you seek to understand why they do the things they do that you might not necessarily agree with. So I think that's what makes me tick, wanting to understand why humans behave they way they do. The good, the bad, the mad, everything. And it all stems back to wanting to understand my parents, first. In some way, it probably stems from my Christian upbringing. Thou shalt not judge...
I spend most of my days in my head, (over)thinking so conversations with myself and then a desire to articulate them, looking at as many facets of the matter as possible - that really makes me tick. I just want people to be empathetic and try to see the world from the perspective of others, rather than restricting their worldview to their own experiences. That's ignorant, detrimental and - ultimately - an act of violence that often stems from a form of privilege. I know it sounds dramatic, but if you think the only way to see the world is from your own, limited life view, then whether you're at the bottom or the top of the totem pole, you're denying someone else's truth, existence and all else. There can be more than one truth in an argument.
And, if you didn't mean my writing… (laughs) Travelling, cooking, walking, playing squash, reading, discovery of all forms, Manchester United (for better, for worse), puzzles and creating memories with my loved ones.
What does 'style' mean to you?
So many things but, in a nutshell, comfort, confidence and being presentable.
I think all three are subjective and often go hand-in-hand. If you feel comfortable, you'll feel confident and vice-versa. I think feeling or being presentable makes you feel confident and comfortable too. For some people that means being loud and standing out. For me, the occasion dictates what I opt for, and my mood! Some days, I really want to dress up and go all out, you know?
Style no doubts says something about my identity, too, and who I'm presenting myself as to people. But I actually quite enjoy not bringing attention to myself. So day to day is more subtle and comfort, whilst occasions I put in a lot more effort - less is more and by that, I mean the less often I go all in, the more appreciation and attention it commands on the rare occasion I do! Saying all of that, having been cooped up for a year, I actually made the decision to actively not just wear house clothes indoors on work days. Not even because of Zooms, just for myself and my mindset. And I'd be lying if I said I've not been excited to do a bit more day-to-day on the style front, in a way that I often didn't pre-pandemic…


What is most important when it comes to dressing for shoot days?
Comfort over everything! You will almost certainly catch me wearing jogging bottoms (or shorts) and trainers on a shoot. I just want to focus on the work, so the less I need to think about the better and that includes feeling comfortable. I'm often to'ing and fro-ing throughout shoots anywhere. Up and down the set, bouncing between cast and crew on production - it might as well be a workout!
My boy Tomisin Adepeju - a fellow filmmaker - is dapper as hell 24/7. Whether it's a film shoot, a ceremony or going to the shop, he is consistently always in suits. I absolutely love it. We've had amazing conversations about it and, in short, it's down to what makes him feel comfortable and confident. I admire it.
Do you think about fashion when creating your characters?
Absolutely, it actually surprises me how particular I am. Two years on, it still bugs me that we weren't able to get clearance to use a particular bag for the young boys in No More Wings. I wanted them to wear the famous Nike Just Do It bags from the noughties, because that's what all of us wore in school. And one of them would've definitely had his graffed/grafitti'd up or with loads of keyrings on it because that's what we used to do.
Or - with Adult Isaac in No More Wings - the watch he's wearing was selected by the person who the character is loosely based on, my best friend. I asked him what he'd buy.
It's something I think about a bit when I'm writing, but it comes into full flow when we get into pre-production - getting all those details is important and says so much about the character without using any words. That's how you really bring them to life: details.
"Fashion is something I think about a bit when I'm writing, but it comes into full flow when we get into pre-production - getting all those details is important and says so much about the character without using any words. That's how you really bring them to life: details."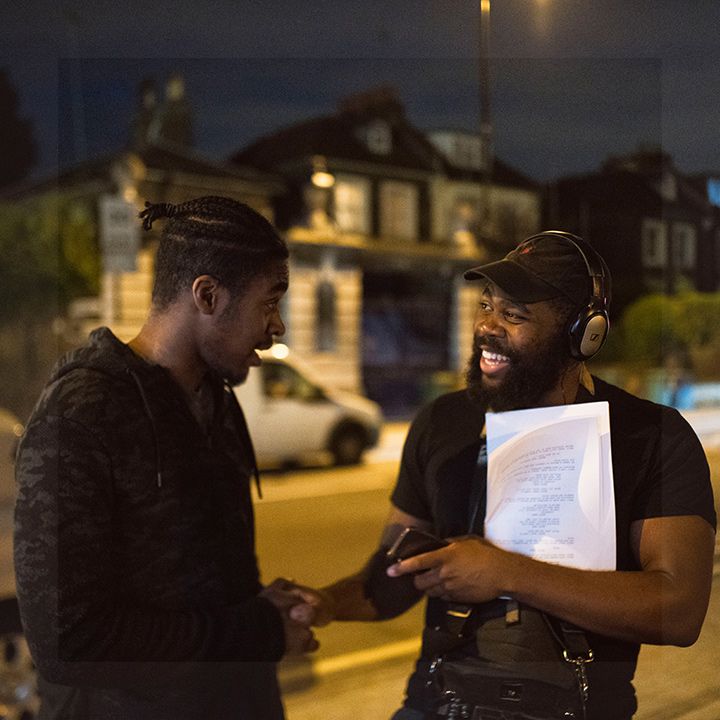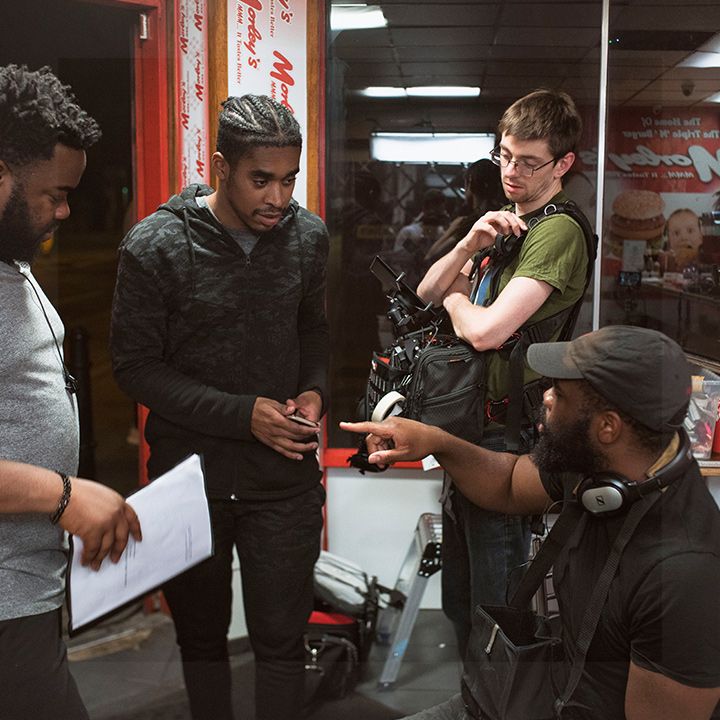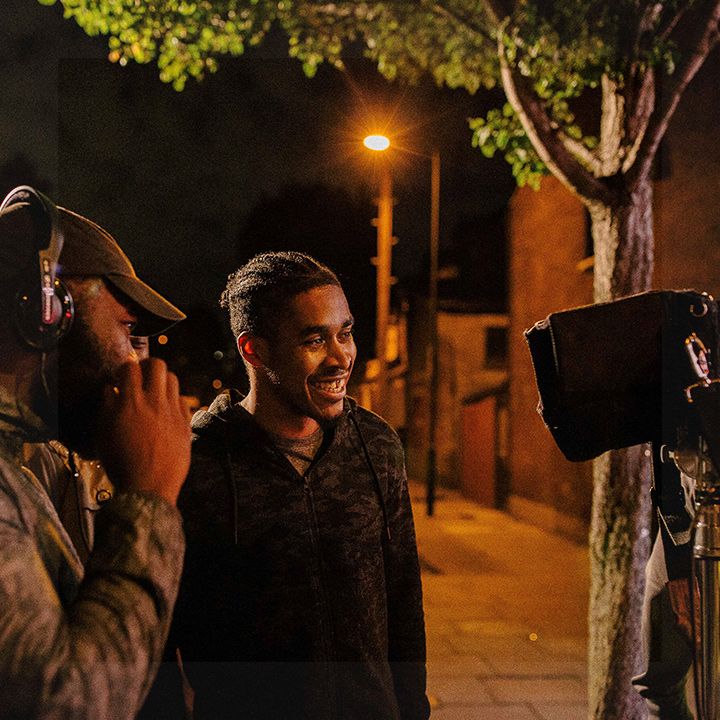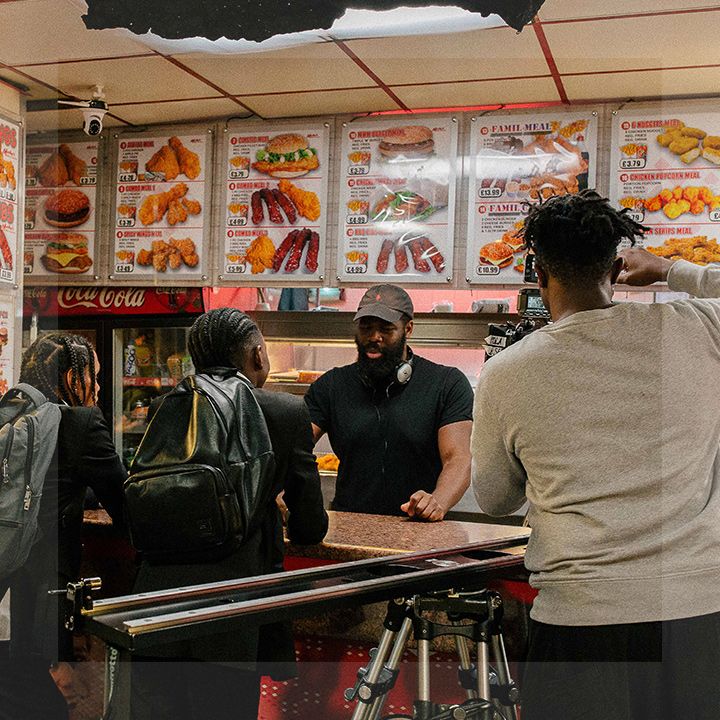 Photography Folaju Oyegbesan & Joupin Ghamsari