Your browser is out of date and will not be compatible with our website.
Please download one of the following browsers to be able to easily view our website.
Cushioned shoes
Powered by innovative technologies like Cushion Plus© and Cushion Soft©, our shoes provide support where it's needed most. From cushioned trainers to cushioned walking shoes for both men and women, these technologies feature in a wide range of our shoes and boots.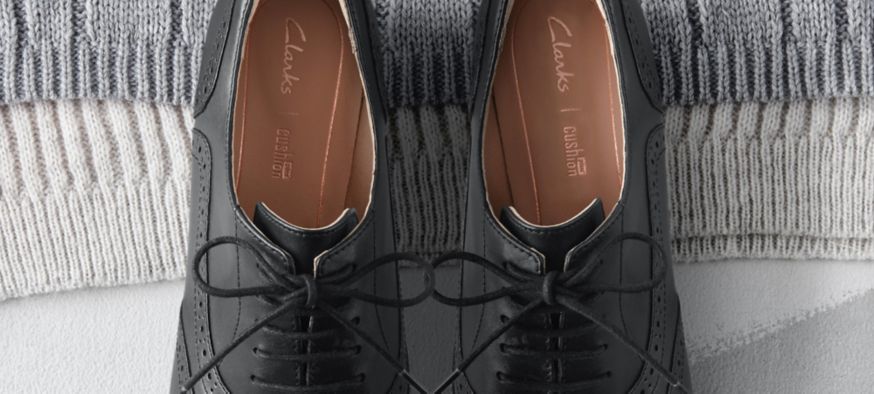 What makes the best cushioned walking shoes?
The best cushioned walking shoes are ones that absorb impact, no matter the terrain. That means whether you're traversing a forest, climbing a mountain or simply strolling through the city, your feet are cushioned and supported throughout your adventure.
All of our cushioned walking shoes and boots feature one of our innovative cushion technologies, providing unparalleled comfort and spreading pressure and weight so that you can walk comfortably for longer. These technologies can be found across a range of our shoes, from our ankle boots and trainers to our sandals and flip flops.
Our cushion technologies
Cushion Plus©
What is Clarks Cushion Plus©?
With precisely placed, anatomically targeted, dual density cushioning, Cushion Plus© reduces strain on the ball of your foot, while simultaneously absorbing the shock of every step.
Its intelligent underfoot cushioning restores your foot to its natural position, even on challenging terrain, so that you can move in the way that's best for you and your body.
Cushion Soft©
What is Clarks Cushion Soft©?
Offering supreme softness and lasting comfort, Cushion Soft's high-rebound foam inlay is cleverly concealed inside our Cloudsteppers shoes to absorb the impact of every step.
Ultimate Comfort
What is Clarks Ultimate Comfort?
Ultimate Comfort is the baseline technology used in our Women's Collection footbeds. Underfoot cushioning and a targeted cushion pad in the heel combine to help you to move in comfort, while a breathable footbed keeps feet cool and comfortable, all day, every day.