Your browser is out of date and will not be compatible with our website.
Please download one of the following browsers to be able to easily view our website.
What to Wear to a Summer Wedding
You've saved the date, spent countless hours musing over what to buy from the wedding list and hopefully chosen the perfect 'plus-one', now all that's left to do is find the ideal summer wedding guest outfit, because wedding season is upon us.
At this time of year we can find ourselves in a flurry of confetti, enjoying our friends' big day, but to make it from the 'I do' to the last dance, one of the most important parts of the outfit to get right is the shoes that will take us through the day.
Whether you're attending formal, semi-formal or casual nuptials, read on for summer wedding outfit inspiration for both men and women, with shoe pairings to help you get that look just right.
Summer wedding outfits for women
As summer weddings are often sizzling hot occasions, dresses are going to be your go-to. The style you choose will depend on how formal the ceremony is, but we've got more tips on that below. If you'd rather wear a two-piece suit or structured jumpsuit, opt for breathable materials such as linen, cotton or silk to stay cool throughout the day.
This is the perfect season for having fun with your palette, and you can wear a wide range of colours to a summer wedding. Go bold with vibrant hues such as pinks, oranges, reds, yellows, and bright blues. Or for a more subtle but colourful look, try pastel shades of the aforementioned colours, or inject pops of colour with your accessories and shoes, like our eye-catching hot pink Aubrie Sun heels.
Formal summer wedding
If you're attending a formal summer wedding, opting for floaty longline dresses in fabrics like chiffon is an excellent way to look stylish, while keeping the heat at bay. A-line dresses also work well in block colours, and are praised as one of the most flattering silhouettes.
A hat or fascinator is often a must for formal nuptials, and it's best to opt for a lighter and mesh-like fabric to avoid overheating. Cover bare shoulders with a shawl or cropped smart silk jacket – this is also perfect for when it gets a little chillier in the evening.
If you'd feel more comfortable in a sleek two-piece suit, ensure that it's a tailored fit and go for a pastel hue like a powder blue or blush pink. Add accessorise with a sparkly brooch and clutch to complete the look.
When picking out formal wedding guest attire for the summer, there is a fine line between style and comfort, so endeavour to strike the balance in order to enjoy the day ahead. Opt for footwear that encompasses elegance, yet supports your feet and has a heel you feel comfortable with, such as kitten-, mid- or block-heel court shoes.

Semi-formal summer wedding
A semi-formal wedding means some of the more traditional elements of summer wedding guest outfits, such as hats and more structured dress styles, need not apply.
Have fun with fabric styles for your dress and consider lace, crochet cut-out, wrap-over and pleated options. You can be playful with prints, too, with this being the perfect opportunity to wear your finest florals or a sprinkle of sequins and sparkle for your evening attire.
Your footwear can also be a little more relaxed, with choices like wedges coming into the equation. Try our comfortable but stylish Lafley Leah wedges in dusty rose, which work well whether you're a guest or a bridesmaid. Read our guide for more direction on choosing bridesmaid shoes.
Slingback sandals are also a great semi-formal wedding shoe choice for women and if you've decided on a neutral outfit, incorporate some colour with our Laina55 Sling in sky blue suede.
Casual summer wedding
Casual weddings are fairly easy to dress for, but they do come with their challenges in terms of striking the right balance between casual and too casual. Whether it is being held outdoors or indoors, maxi dresses and shorter floaty dresses work well for your casual summer wedding guest attire, and you can achieve the perfect balance of formality by focusing on shoes and accessories.
While heels are not an essential part of an outdoor wedding guest outfit, they can certainly help to elevate an otherwise-casual outfit, and there are plenty of comfortable options to choose from. To avoid feeling underdressed, add a little sparkle with a pair of low-heeled metallic Deva Mae sandals, or if you'd prefer to wear flats try our Bay Rosie leather sandals with an elegant gold strap.
Complete your look with accessories such as a sophisticated hair band, a statement pair of earrings or a mini shoulder bag that echoes the fabric or colour of your shoes.


Summer wedding outfits for men
Suits are the obvious choice for men's wedding outfits, but when it comes to warm summer weddings, they can err on the side of uncomfortable. Swap your usual suit for lighter fabrics such as cotton, and suit jackets that are classified as 'lightweight'.
Depending on the formality of the occasion, this could be an opportunity to experiment with different colour palettes, too, as navy and black can be substituted for paler or more colourful alternatives, like beiges, dusky blues, creams, or greens. If you're feeling bold, choose a suit in one of these hues, or play it slightly safer with a pale grey suit and a colourful shirt or tie.
Comfort is key when picking summer wedding guest shoes for men, so ensure you choose a sturdy, well-fitting pair. Our shoes are built with comfort in mind and have durable soles, perfect for keeping your feet cushioned throughout a long day.
Formal summer wedding
Regardless of the season, if a wedding invitation suggests black tie, then ensure you leave plenty of time to prepare a tuxedo, as fittings and alterations can take a while to do.
Alternatively, if it's formal but not black tie, a smart suit will do, worn with a crisp shirt and a tie. A waistcoat is optional, but it may be wise to leave an additional layer out in summer months.
For your shoes and belt, it's important to match the colours as closely as possible, and while this is easy with black, browns are a little trickier so pay close attention when shopping for these pieces. In terms of shoe styles, lace-up Oxfords or Derby shoes look particularly smart, such as our Oliver Cap 2. Leather loafers are also an elegant option, like our Glement Seam shoes. Check out our guide for more formal shoe inspiration.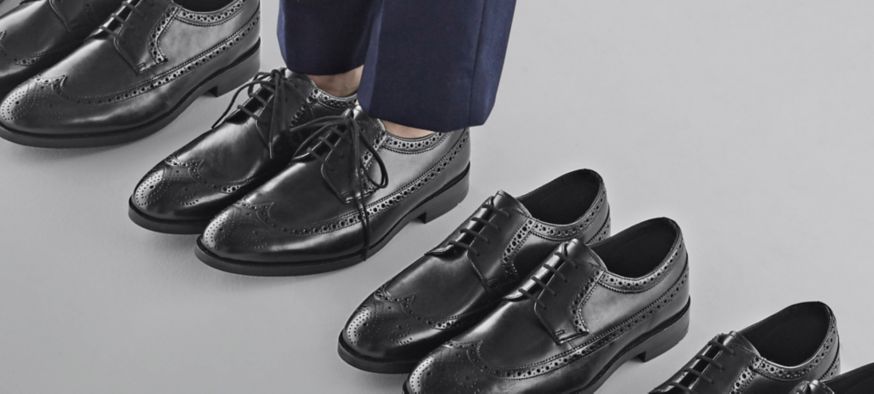 Semi-formal summer wedding
In summer, semi-formal weddings mean you can avoid wearing a full suit, and you may even be able to go jacket-free for the most part.
Have fun with prints, whether that's checks, stripes or other detailing on your jacket or trousers, but try to keep one of the two garments in a block colour to avoid your outfit looking too busy.
When it comes to shoes, tans and browns are a great option for that smart-casual look, like our Tilden Cap in dark tan leather. This style and our Stanford Walk shoes in tan leather are great options for the groom, too, as they strike the perfect balance between smart-casual and sophisticated.
Casual summer wedding
Casual summer weddings often take place outdoors, so bear in mind that dressing suitably for the weather is essential.
Chinos are a great option for men's casual summer wedding attire, or if it's extremely casual (like a destination wedding) then chino shorts or cotton Bermuda shorts work well for your lower half. Pair your chinos or smart shorts with a linen shirt in a vibrant or pastel hue.
If chinos aren't for you, and the dress code really is casual, you may be able to get away with a smart pair of straight-cut jeans in a dark blue wash, worn with a long- or short-sleeved shirt, but there's no need for a tie or jacket. For your shirt, be adventurous with fun prints, whether it's stripes, tropical leaves, paisleys or florals. Tie your look together with a pair of boat shoes like the Orson Harbour in navy or brown leather.
No matter how formal the occasion, we have a wide range of wedding shoes for men and women for you to choose from.